Greece Brings Deadly Fires Under Control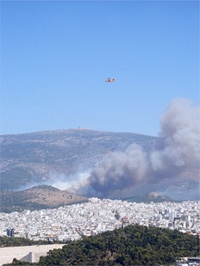 Wikipedia
ATHENS, Greece - Forest fires that have ravaged Greece for more than 10 days have largely come under control after killing 64 people and leaving thousands homeless, the fire brigade said on Monday.
Dozens of villages in the southern Peloponnese peninsula and the island of Evia north of the capital have burned down while hundreds of thousands of acres of pristine forest have been destroyed in the fires that broke out across central and southern Greece.
"The fires that have burnt on the Peloponnese (peninsula) have been put out," fire brigade spokesman Nikos Diamantis told reporters. "There are some minor fronts on Mount Parnonas."
Greek Prime Minister Costas Karamanlis, facing a September 16 parliamentary election, has blamed arsonists for the destruction, and said the government would help rebuild destroyed homes and support farmers for several years.
"Our country faced an unprecedented and extremely difficult situation," he said in an address to the nation on Sunday evening. "We have some way ahead of us in healing the wounds."
On Monday, he attended a reconstruction meeting in the town of Tripoli in the Peloponnese, which was expecting autumn showers to put out the remaining smoldering forests.
Central and southern Greece saw the first autumn rains over the weekend and more were expected on Monday. Storms in the north flooded two villages on Sunday and about 200 Greek loggers were already busy in the affected areas, constructing barriers in the charred forests to prevent flooding.
"There was rain in central Greece and northern parts of Peloponnese on Sunday," a state meteorologist told Reuters. "For Monday, rains are forecast mainly in the northern and central parts of the country."
Hundreds of thousands of mature olive trees, vineyards and thousands of animals perished in the flames. The government has already paid out more than 107 million euros ($146.2 million) in compensation.
The opposition socialists accused the government of incompetence but do not appear to be able to capitalize on the government's woes and trail the ruling conservatives by about 2 percentage points in opinion polls.
The fires at one point threatened ancient Olympia, the birthplace of the Olympics. Damage to the economy is estimated at 1.2 billion to 4 billion euros and the European Commission has pledged to provide up to 200 million euros in aid.