China to use more non-grain biofuels to replace oil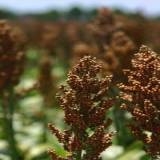 Sweet Sorghum
BEIJING (Reuters) - China plans to expand its use of biofuels to reduce its reliance on petroleum, utilizing 2 million tonnes of bioethanol from non-grain feedstocks and 200,000 tonnes a year of biodiesel by 2010, a senior official said on Tuesday.
Beijing's plan also seeks to move away from corn, now the feedstock for most Chinese biofuel, amid concerns over supply security and food price inflation.
By 2020, China aims to use 10 million tonnes of bioethanol and 2 million tonnes of biodiesel, replacing 10 million tonnes a year of petroleum-based fuel, Chen Deming, vice chairman of the National Development and Reform Commission, told a news conference.
"In the future, all the biofuel production will use non-grain crops," Chen said.
Beijing is eager to reduce its dependence on expensive crude oil, but is also increasingly concerned that planting crops for fuel could limit its ability to grow enough grain for an increasingly wealthy population.
Demand for corn to produce ethanol in the U.S. and Brazil had crowded out land for food uses, Chen said, pledging that China would not do the same.
"By doing this, these countries have increased corn planting and decreased soy acreage, thus raising agricultural prices. Our land is precious, we will not do this," Chen said.
China currently has four facilities with a designed capacity to produce 1.02 million tonnes of ethanol from grains, including about 800,000 tonnes made from corn. Much of the feedstock is old grain stocks from reserves, Chen said.
Last year, the plants produced well beyond their design, at about 1.3 million tonnes. Rising demand for corn for ethanol, corn sweetener, animal feed and industrial uses has helped draw down China's corn reserves, despite bumper harvests.
China would rely instead on plants growing on less productive land for bioethanol and biodiesel, including sweet sorghum, Chen said.
He dismissed the possibility that China could import corn from the U.S., citing North American demand and the high shipping cost.