Low VOC Paint For Euro Aircraft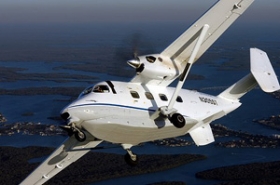 MIELEC, Poland - A Polish aircraft manufacturer is the first in Europe to use an environmentally friendly zero-to-low-Volatile Organic Compound paint product for aircraft.
"The new paint product uses 27 percent less material and has 41 percent fewer air emissions," said Robert Araujo, Manager of Environment, Health & Safety for Sikorsky Aircraft. "This was our Poland Team's first effort, and with the approval of the Polish government, we will continue to apply this technology to the benefit of a cleaner global environment."
Araujo said the technology meets or exceeds the specifications set forth by the Polish government. "This has the potential to become the new standard in aircraft coating and paints," he said.
Sikorsky President Jeffrey Pino emphasized the company's focus on environmentally safe technology. "Sikorsky Aircraft is the first manufacturer in the world to replace paints and coatings with zero- or low-VOC paints, and PZL Mielec is the first aircraft manufacturer in Poland and in Europe to paint an aircraft with a low-VOC material," Pino said. "Sikorsky is proud to lead the European aviation industry in setting new standards for environmental stewardship."
The product, known as Aerodur 5000, was developed by Akzo Nobel Aerospace Coatings, a leading global coating manufacturer, based in Waukegan, Illinois, USA. The product was tested on the M28 SKYTRUCK in a "lead the fleet" effort for the Polish Army. Sikorsky has used zero-Volatile Organic Compound (VOC) and low-VOC material in the United States since 2000.
Sikorsky Aircraft Corp., based in Stratford, Connecticut, USA, is a world leader in helicopter design, manufacturing, and service. The company's long commitment to safety and innovation is reflected in its mission statement: "We pioneer flight solutions that bring people home everywhere ... every time(TM)." United Technologies Corp., based in Hartford, Conn., USA, provides a broad range of high-technology products and support services to the aerospace and building systems industries.