Wave Power, AquaBuOY 2.0 Wave Energy Converter Launched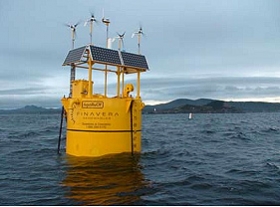 PORTLAND, Oregon - This high tech bouy generates power from wave action. It's called an AquaBuOY. And it's about to be towed to sea for further tests and refinement. The company has adopted a philosophy of "Kaizen", a Japanese word meaning "change for the better" or translating to English, a philosophy of "continual improvement".
"The AquaBuOY is a floating buoy structure that converts the kinetic energy of the vertical motion of oncoming waves into clean electricity. The AquaBuOY is categorized as a point absorber, defined as having a small dimension in relation to the longer wave length in which it is operating. It utilizes a cylindrical buoy as the displacer and the reactor is a large water mass enclosed by a long vertical tube underneath the buoy," says Finavera Renewables CEO Jason Bak, whose company designed the technology.
Engineers will test the device and analyze the results, and optimize the design of the next generation. They plan to install a multi-device array in 2010 and later many more of these power generating bouys.
The device is being prepared to be deployed for ocean testing during the first week of September 2007, off the coast of Oregon, near the city of Newport. Once deployed 2 miles off the coast, engineers will monitor the output of the hose pump technology and other components to determine the device's potential for electricity generation. All onboard diagnostic equipment will be powered by the device itself, with solar panels, and small wind turbines installed on the device providing secondary electricity generation. Information will be streamed live to the Company via wireless and satellite technology in order to gather and analyze the data.
Finavera Renewables CEO Jason Bak said, "Our next step is to deploy the device and validate our cost and output projections. That testing will lead to the development of our next generation wave energy converter, as our goal is to optimize our technology for cost effective electricity generation from the energy in the ocean. The completion of construction and imminent deployment bring us closer to that goal."
The Company is developing wave energy projects for AquaBuOY use in the United States, Portugal, South Africa and Canada. The Company is also developing wind energy projects in Canada and Ireland.
For more information: http://www.finavera.com