Seattle Grocery Store Earns LEED Gold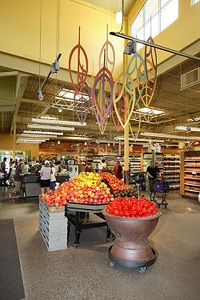 Redmond Washington - The Redmond, Washington, branch of Seattle-based PCC Natural Markets became the first grocery store to achieve a Gold certification in any of the U.S. Green Building Council's LEED rating systems.
The store, certified under LEED for Commercial Interiors, features 28 skylights that bring daylight into the store and reduce general lighting electricity use to an anticipated 0.21 watts/ft2 (2.25 W/m2), an 86% reduction compared with a base case building in minimal compliance with Washington State code requirements; electricity use for accent lighting is expected to be 37% lower than code.
Waste heat from the refrigerators is used for space and water heating, and overall energy savings are expected to be 50% compared with a code-compliant store. Recycled-content materials were used throughout, as were finishes with low levels of volatile organic compounds. More information is available at www.pccnaturalmarketsmarkets.com/locations/rd.html.