Monsanto Loses Spanish Court Case on Argentine GMO Soy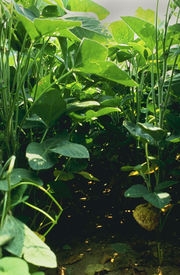 BUENOS AIRES - A Spanish court ruled against biotech giant Monsanto in its bid to make importers pay royalties on Argentina's genetically modified soy, company and government officials said on Thursday.
Monsanto vowed to appeal the ruling.
For about a year starting in mid-2005, the company held up shipments of Argentine soymeal at some European ports, filing lawsuits to try to enforce patents on its Roundup Ready gene technology in countries that buy Argentine soy products.
Roundup Ready soy, which is genetically engineered to resist Roundup herbicide, was never patented in Argentina but is widely grown in the South American country -- the world's No. 3 soy exporter and its top supplier of soyoil and meal.
Monsanto's drive to make importers pay the royalties was stymied when a court in Madrid ruled that Sesostris, controlled by international commodities group Louis Dreyfus, was exempt from such payments, an Argentine government official told Reuters.
The tribunal also ordered that US-based Monsanto pay all court costs, in what the Argentine official described as an "extremely forceful and clear ruling."
Monsanto criticized the decision, however.
"Although we are disappointed in the decision, we are not surprised as the trial judge unexpectedly refused to admit certain critical evidence thereby undermining our ability to fully and properly prosecute our case," the company said in a statement. "We will therefore be appealing the decision."
The Argentine government asked to participate in the patent lawsuits as a third party, fearful that its soymeal exports to Europe could be hurt. Monsanto filed suit in Spain, the Netherlands, Britain and Denmark and importers lost money due to delays at port.
Europe is the main market for Argentina's soymeal and Spain is the top importer, buying 3.9 million tonnes of it last year from total Argentine exports of 25.7 million tonnes, according to government figures.
Drawn-out negotiations between Argentina and Monsanto to design a more effective royalty system for Roundup Ready soybeans collapsed when Monsanto took legal action.