So Cal's First LEED Certified All-Solar Multi-Family Community.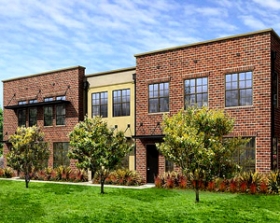 ORANGE, Calif. - Orange County's first all-green new-home community, opened its sustainable model homes to the public this weekend. It's also trendy Orange County's first LEED Certified residential community, and its first all-solar multi-family community. The community is called "Deopt Walk". Models range from 1,277- to 2,010-square-feet, and start in the $600,000 dollar range.
The development is the brainchild of Olson Homes, a pioneer in sustainable building practices and a leader in California's move towards urban living. The project is adjacent to the Orange Metrolink station, making the project transit-oriented.
"We're proud that Depot Walk has been certified by the United States Green Building Council's program for Leadership in Energy and Environmental Design," said Bill Holford, Olson's regional president of Southern California In-Town Communities. "These homes feature eco-friendly design, materials and construction techniques."
Holford explained that LEED Certification involves rigorous requirements set by the United States Green Building Council that have become the "gold-standard" for the Green Building movement. As the ratings system for sustainable residential site development, water savings, energy efficiency, materials selection and indoor environmental quality, LEED is the nationally-accepted benchmark for high performance in eco-smart practices.
"Green homes are healthier, more comfortable and more durable than conventional homes," noted Holford. "They use less energy, water, natural resources, and create less waste. Moreover, there are economic benefits as well-such as lower utility bills."
Depot Walk is also Orange County's first all-solar multi-family community. With systems provided by SunPower, maker of the world's most advanced solar technologies, these homes will get up to 50 percent of their electrical power from this non-polluting, clean energy source. Solar energy helps to offset electrical usage at the time of day when homes and businesses demand it most. It also allows utilities to operate fewer fossil-fuel consuming power plants.
Located on Maple Avenue at Pixley Street within Orange's Old Towne Historic District, Depot Walk offers the first new-housing in 25 years. Priced from the $600,000s, the new neighborhood will feature 32 California Brownstones / townhomes, of which three are live-work units, and five are integrated affordable housing.
A selection of three floor plans offers a variety of living and live-work options ranging from 1,277- to 2,010-square-feet. The two- and three-story home designs range up to three bedrooms and three baths with private decks, lofts and an optional den.
About Olson Homes
Headquartered in Seal Beach at 3020 Old Ranch Parkway, Olson Homes is California's largest metropolitan builder winning many awards, including being named America's Builder of the Year. Since 1988, Olson Homes has transformed "in-town locations" into a variety of attainably-priced homes including live-work, transit-oriented developments, lofts, brownstones and homes with historic architecture. The company has constructed thousands of homes over its history meeting and servicing the needs of California's culturally-diverse homebuyers. Its reputation is unsurpassed in working with cities to create new "in-town neighborhoods" among mature communities. Additional information about Olson Homes is available on its website at http://www.olsonhomes.com/.