BP Breaks Ground On First Wind Project in Texas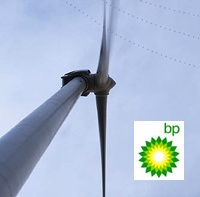 HOUSTON - When it's up and running in 2008 a new Texas wind power facility will see 24 2.5 megawatt wind turbine generators, the largest wind turbines built in the U.S. turning in the Texas wind. When it's finished the $100-million dollar project will generate enough carbon-free electricity to power approximately 24,000 average American homes. The project is a venture of BP and Clipper Windpower. Crews broke ground today and is the first wind project in Texas.
"Wind power is domestic, cost-competitive and offers rural communities a fresh revenue stream without impact to traditional farming and grazing practices," said Bob Malone, chairman and president of BP America. "BP believes that sustainable energy alternatives and the development of the wind industry are in the best interests of the nation and the State of Texas - the leading State in installed wind power capacity."
The project will employ over 100 people during its construction.
"We are very pleased to be partnering with BP, a world leader in renewable energy projects, as we break ground on the first Liberty wind turbine installations in the great State of Texas," said James G.P. Dehlsen, chairman and CEO of Clipper Windpower. "Clipper's commitment to both the success of its wind turbine technology and development of wind generating facilities is well reflected in the Clipper group's long-term ownership interest in the Silver Star project. The Liberty wind turbines, with their scale and state- of-the-art drivetrain with unique permanent magnet generators, provide a powerful showcase for the potential of renewable energy's contribution to the grid, reducing dependence on carbon fuels, and eliminating harmful emissions."
BP's US wind portfolio includes the opportunity to develop almost 100 projects with a potential total generating capacity of 15,000 MW. These projects are the result of several agreements and acquisitions the company made last year.
Clipper Windpower
Clipper Windpower, www.clipperwind.com, is a rapidly growing company engaged in wind energy technology, turbine manufacturing, and wind project development. With offices in the United Kingdom, United States of America (California, Colorado, Iowa, and Maryland), Denmark, and Mexico and a ISO9001:2000 QMS Certified, 330,000 square foot manufacturing and assembly facility located in Cedar Rapids, Iowa, the company designs advanced wind turbines, manufactures its 2.5-MW Liberty wind turbine and actively develops wind power generating projects in the Americas and Europe. Clipper is a public company listed on the London Stock Exchange's Alternative Investment Market (AIM). Clipper's ticker symbol is CWP.
The ordinary shares of Clipper Windpower Plc are traded on the Alternative Investment Market of the London Stock Exchange and are not registered under the U.S. Securities Act of 1933, as amended. Such shares may not be offered or sold to residents of the United States or to persons acting on their behalf, or to other persons who are "United States Persons" within the meaning of Regulation S as promulgated under the Securities Act of 1933, unless such shares have been registered under the Securities Act or there is an available exemption from registration.