Surprising Humberto strikes Texas, Louisiana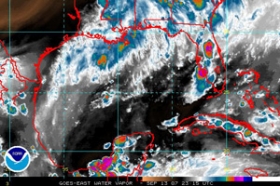 HOUSTON (Reuters) - Fast-forming Hurricane Humberto surprised the Texas-Louisiana border area on Thursday with a powerful punch that killed at least one person, shut down three refineries and cut power to more than 100,000 customers.
It had been expected to hit land as a tropical storm, but suddenly strengthened into an 85-mile-per-hour (137-kph) hurricane before coming ashore in a transformation forecasters said was the fastest on record.
"No tropical cyclone in the historical record has ever reached this intensity at faster rate near landfall. It would be nice to know someday why this happened," said forecaster James Franklin at the U.S. National Hurricane Center in Miami.
"It went from 30 knots (35 mph/55 kph) to 75 knots (86 mph/138 kph) in 18 hours. That's never happened before," said meteorologist Patrick Blood at the National Weather Service office in Houston.
Humberto struck the upper Texas coast about 30 miles (48 km) east of Galveston in the early morning hours as a Category 1 hurricane on the Saffir-Simpson scale, then weakened to a tropical storm by 11 a.m. EDT and later a tropical depression.
The storm was blamed for the death of an 80-year-old man in Bridge City, between Beaumont and Port Arthur, who was killed when his patio canopy fell on him at the height of the storm, a Bridge City police spokesman said.
By 3:30 p.m. CDT (2130 GMT), forecasters said the storm's winds had fallen to 35 mph (55 kph) as it crossed central Louisiana. It was headed eastward, dropping rains up to 12 inches as it went. Officials said a number of highways in Louisiana were flooded.
'SUBSTANTIAL DAMAGE'
Part of Humberto's target zone still was recovering from Hurricane Rita, which hit the Texas-Louisiana border in 2005 three weeks after Hurricane Katrina devastated New Orleans.
Total Petrochemicals USA, Valero Energy Corp. and Motiva Enterprises LLC refineries in Port Arthur were shut down by power outages.
At the peak, power was out to 114,000 customers in Texas and Louisiana, reported the area's main utility, Entergy Corp. The company said it could take several days to restore electricity.
The storm downed trees, tore the roofs off building and left streets blocked with litter and tree branches.
"We're getting reports that it could be, in certain areas, fairly substantial damage because of loss of power, damage to houses, tree limbs down," said Greg Fountain, coordinator for Jefferson County emergency management serving the Beaumont-Port Arthur area in southeastern Texas.
Houston and Lake Charles, Louisiana, which are major refining centers like the Beaumont-Port Arthur area, appeared to have escaped the worst.
"We were fortunate this time," said Dinah Massie Martinez, spokeswoman for Houston Transtar, a multi-agency emergency office.
Humberto was the third hurricane of the 2007 Atlantic hurricane season, and was dwarfed by its ferocious Category 5 predecessors Dean and Felix. They struck Mexico and Central America, respectively, with Felix killing at least 130 people.
© Reuters2007All rights reserved