First Platinum Medical Center Opens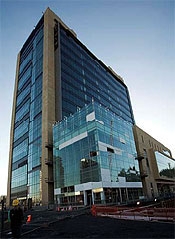 Portland, Oregon - The Center for Health and Healing at Oregon Health and Science University in Portland, Oregon, is the first medical center to achieve a Platinum rating in the U.S. Green Building Council's LEED Rating System.
The 16-story, 400,000-ft2 (37,000-m2) building features a chilled beam and displacement ventilation system, a membrane bioreactor for treating sewage, rainwater harvesting, and a 6,000-ft2 (560-m2), glass-skinned Trombe wall for storing thermal energy.
Designed to be 60% more energy efficient than Oregon code requires, the building also uses 60% less potable water than a comparable, conventional building, thanks to wastewater and graywater harvesting and water-efficiency measures.