Arctic sea route opens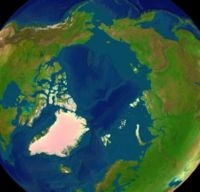 LONDON (Reuters) - The Arctic's Northwest Passage has opened up fully because of melting sea ice, clearing a long-sought but historically impassable route between Europe and Asia, the European Space Agency said.
Sea ice has shrunk in the Arctic to its lowest level since satellite measurements began 30 years ago, ESA said, showing images of the now "fully navigable" route between the Atlantic and the Pacific.
A shipping route through the Northwest Passage in the Canadian Arctic has been touted as a possible cheaper option to the Panama Canal for many shippers.
"We have seen the ice-covered area drop to just around 3 million square km," said Leif Toudal Pedersen of the Danish National Space Centre, describing the drop in the Arctic sea ice as "extreme".
The figure was about 1 million sq km (386,870 sq miles) less than previous lows in 2005 and 2006, Pedersen added.
The Northeast Passage through the Russian Arctic remained partially blocked, but in the light of the latest developments it may well open sooner than expected, Pedersen said.
Polar regions are very sensitive to climate change, ESA said, noting that some scientists have predicted the Arctic would be ice free as early as 2040.
Almost all experts say global warming, stoked by human use of fossil fuels, is happening about twice as fast in the Arctic as elsewhere on the planet. Once exposed, dark ground or sea soak up far more heat than ice and snow.
September and March generally mark the annual minimum and maximum extent respectively of Arctic sea ice.
The ESA announcement on its Web site came amid a scramble for sovereignty rights in the Arctic.
Russia, which recently planted its national flag on the seabed beneath the ice of the North Pole, has been staking its claim to a large chunk of the resource-rich Arctic region.
Countries such as Russia are hoping for new shipping routes or to find oil and gas.
Canada has also been pressing its Arctic sovereignty claim and has announced plans for a deep-water port at Nanisivik near the eastern entrance of the Northwest Passage, which will allow it to refuel its military patrol ships.