U.S. to issue report in autumn on Mass. wind project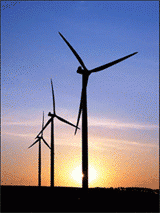 WASHINGTON (Reuters) - The U.S. Interior Department's Minerals Management Service will issue a draft report this autumn on the environmental impact of a controversial wind power project proposed for off the coast of Massachusetts, the head of the agency said on Monday.
The Cape Wind project would consist of 130 wind turbine generators that would be located about five miles off the Massachusetts coastline in Nantucket Sound. The turbines will stand about 440 feet from the surface of the water to the tip of the blade.
The project is opposed by Mitt Romney, the former Massachusetts Governor and current Republican presidential candidate, Sen. Ted Kennedy and many residents who own coastal property from where the wind turbines could seen on a clear day.
Environmentalists are concerned about disrupting the patterns of migratory birds and the potential effect on local sea life. Area fisherman worry about navigating their boats and drag-nets near the project.
Congress gave the Minerals Management Service federal authority over the project.
The agency is expected to release its draft environmental impact statement on the wind power project for public comment this autumn, the new director of MMS, Randall Luthi, said.
Luthi told reporters at a Platts energy conference that the MMS would hold public meetings on the project this winter and "very likely" would issue a final decision on the project during the second quarter of next year.
Boston-based Energy Management Inc, developer of Cape Wind, estimates the project will cost $1 billion.
If approved, it would take about 18 months to build the wind farm.
The wind turbines will be able to generate up to 454 megawatts of electricity, enough to supply about three-quarters of the electricity needs of Cape Cod and the islands of Martha's Vineyard and Nantucket.
One megawatt can power about 1,000 homes.