Hefty Rebate For Backyard Wind Turbines In California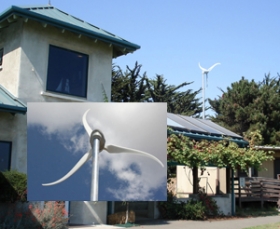 SAN FRANCISCO – Californians have another reason to install wind turbines: hefty rebates. Now homeowners who install a Skystream 3.7, rated at 1.8 kW, are eligible for a $4,100 rebate from the state of California. The Skystream, costs between $12,000 and $15,000 to purchase and install.

The Skystream, developed in collaboration with the U.S. Department of Energy's National Renewable Energy Lab, was named a Best of What's New product by the editors of Popular Science and a Top 10 Green Building Product by editors of Sustainable Industries magazine. Skystream is the first backyard-sized wind turbine to include a built-in inverter, requiring no external components. Depending on the wind resource, Skystream generates between 30-80 percent of the power required by a typical home. Typically, Skystream is installed on lots of a half acre or larger.

"This is a big development for California homeowners who've wanted backyard wind power for years, but who have been waiting for the right product and the right rebates," says Andy Kruse, VP of business development for Southwest Windpower. "With the new rebate in place, it's now more affordable than ever to start making clean power in backyards across California," Kruse says.



Scott Jackson, principle of Evergreen Development, a certified Skystream dealer and installer, sees great potential for Skystream in the California market. "Here in California, homeowners care about the environment, but they also care about affordability and aesthetics. Skystream is the total package," Jackson says.

The Skystream wind turbine will be on display this weekend as part of the San Francisco Build It Green Home Tour in conjunction with West Coast Green 2007. The Skystream will be on display at a home in San Francisco's Mission District located at 3027 25th Street (near Bryant Street).

To locate a Skystream dealer in your area or to inquire about becoming a certified Skystream dealer visit www.skystreamenergy.com.

About Southwest Windpower

Flagstaff Arizona-based Southwest Windpower is the world's largest producer of small-scale wind generators (400 to 3000 watts). The 20-year old company has been a pioneer in the development of wind technology and has produced over 90,000 generators that provide power to everything from residential homes to sailboats. Southwest Windpower's newest wind turbine, the Skystream 3.7, is the first fully-integrated wind generator designed specifically for the grid-connected residential market. Southwest Windpower distributes in more than 88 countries. The Skystream 3.7 will be on display Sunday as part of the San Francisco Build It Green Home Tour in conjunction with West Coast Green 2007.

On the Web: www.skystreamenergy.com.