China Readies For "no car" Day Ahead of Olympics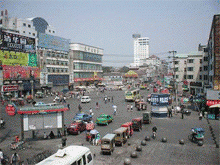 BEIJING - China is holding a "no-car day" in 108 cities on Saturday as it tries to clean up its notoriously smoggy skies, a task made more urgent by the approach of the 2008 Summer Olympics.
Beijing has been blessed with clear autumnal skies all week, but will ban cars on some downtown streets while encouraging all drivers to leave their cars at home voluntarily.
The Beijing Municipal Maritime Administration said 108 cities across the country would take part in the no-car day with varying levels of enforcement, encouraging people to get back on their bicycles for which Chinese cities used to be famous.
"We are only advocating that small cars keep off the roads in certain districts," said a Beijing official surnamed Zhang.
Beijing embarked on a four-day experiment last month to see if taking 1.3 million cars off streets would substantially reduce pollution.
Beijing is closing down the worst-polluting factories and switching thousands of homes from coal to gas use but air quality remains the biggest concern for Olympic organizers.
Beijing's car tally hit the 3 million mark in May and more than 1,000 more are registered every day, snarling up the roads and pumping nitrogen dioxide, carbon monoxide and particulate matter into the air.