Tropical depression Forms In Gulf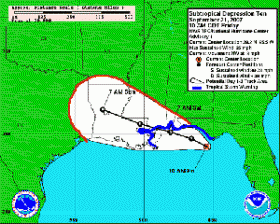 NEW YORK (Reuters) - Subtropical Depression 10 in the Gulf of Mexico strengthened Friday into a tropical depression, the National Hurricane Center said in a report.
The NHC said the center of the depression was located about 50 miles southwest of Apalachicola, Florida, and about 155 miles east-southeast of Mobile, Alabama.
The depression, which is packing winds near 35 miles per hour, was moving toward the northwest near 11 mph. The NHC in a report at 2 p.m. EDT (1800 GMT) predicted the storm would turn to the west-northwest during the next 24 hours.
The NHC expects the storm to strengthen into a tropical storm (winds of 39-73 mph) within 12 hours before moving inland in about 36 hours where it will dissipate. The NHC does not expect the depression to strengthen into a hurricane.
The NHC will name the next tropical storm Jerry.
On the forecast track, the NHC said the center of the depression would move nearly parallel to the coastline within the warning area Friday.
The NHC issued a tropical storm warning from Apalachicola, Florida, westward to the mouth of the Mississippi River, including New Orleans and Lake Pontchartrain. A tropical storm warning means the NHC expects tropical storm conditions within the warning area within the next 24 hours.
Other weather models also predicted the storm would make landfall between eastern Louisiana and western Florida over the next day or so.
The energy market watches for tropical storms in the Gulf because they can disrupt U.S. oil and natural gas production and refining there.
Commodities traders also track tropical storms because they can damage citrus crops in Florida and such crops as cotton along the Gulf Coast.
The NHC will issue another advisory at 5 p.m.
OTHER DEVELOPMENTS
In the Caribbean Sea, the NHC pointed to a weak surface trough, or an elongated area of low pressure, over the western Caribbean. The Center however said development of this system, if any, would be slow to occur as it moves slowly westward.
In the Atlantic meanwhile, the NHC said it was still looking for signs of tropical development in a nearly stationary nontropical low located over the central Atlantic about 1,100 miles east of Bermuda.