Ivo weakens to tropical storm near Mexico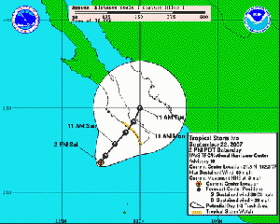 MEXICO CITY (Reuters) - Hurricane Ivo weakened to a tropical storm on Friday on its way to Mexico's Baja California peninsula, where it is due to make landfall in a sparsely populated desert area in the coming days.
The U.S. National Hurricane Center said Ivo had maximum sustained winds of 70 mph (112 kph), making it less than hurricane strength.
Ivo was more than 250 miles south of the beach and golf resort of Los Cabos and expected to hit further up the coast of the peninsula on Monday morning.
Hurricane Henriette slammed into Los Cabos earlier this month, killing two fishermen and a foreign tourist.
Henriette also flooded northern Mexico with driving rain, raging over the farming states of Sonora and Sinaloa.