Prefabricating Green: Building Environmentally Friendly Houses Off Site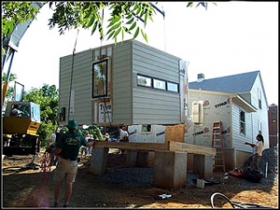 In August 2007, a home appeared in Walpole, New Hampshire, over the course of eight days. Sponsored by Habitat for Humanity, the house was designed by design-build company Bensonwood, also of Walpole, and constructed by volunteer labor. This house was different from most Habitat houses, however, which are typically built on site using conventional wood-framing methods.
For the Walpole home, Habitat chose to build a prefabricated home with precision-cut timbers and panels constructed at the Bensonwood factory by volunteers; the panels were later assembled on site, also with volunteer labor. The resulting house produced less waste material than a site-built house, thanks to cutting equipment programmed to maximize the use of each piece of wood. It was also built faster than a site-built house, including the time spent assembling panels at the factory, and it featured a well-insulated building envelope with strong attention to construction details. The house included Bensonwood's unique measures designed to "disentangle" the electrical, plumbing, and mechanical systems from the structure, making them easier to install and modify. Not all prefabricated homes incorporate as many advanced features as the one in Walpole, but Bensonwood is not alone in exploring ways to bring environmental sensitivity and smart design to prefabricated housing.
On paper, prefabricated housing has the potential to offer significant environmental benefits: stronger, better-insulated structures; less waste from construction; reduced transportation impacts; and, in some cases, easier disassembly for reuse. Prefabricated construction also has the potential, given the efficiency of factory production, to deliver these benefits at a lower cost than site-built housing. The prefabricated housing industry has been slow to accept high-performance building practices, however, failing to realize the full environmental potential of prefabrication.
Changes to assembly-line procedures to add high-performance features—super-insulation of the house, for example—can be prohibitively expensive, making prefabrication less attractive for environmentally friendly building projects. If the changes are adopted throughout the industry, however, the costs of changing procedures would be spread among thousands of houses, making green design affordable. This article examines both mainstream and more advanced green prefabricated housing, looking at the potential environmental benefits of this form of building and the potential for making green housing more affordable.

Is It Green?
From material waste savings and more durable houses to reduced transportation impacts during construction, prefabricated housing could offer many environmental benefits. This section examines the most common environmental claims for prefabricated housing.

More durable houses

Darrell Hoss, a high-end homebuilder in Stamford, Connecticut, represents a new breed of modular builder; his houses start at 5,000 ft2 (460 m2) and he attracts clients who are looking for high-quality homes with customized details. Hoss chose to build modular houses because, he said, "the basic quality is better—they're built in a controlled environment." Materials are stored and assembled indoors, where they are less likely to be damaged, and quality-control measures are easier and more common in a factory setting than on a building site. In many factories, materials are checked for quality, and supervisors routinely check modules to ensure that construction procedures, such as proper framing or air-sealing techniques, are being followed. Factories also tend to employ longer-term labor, leading to higher levels of training and thus better construction.

Modular houses, in particular, must be built strong enough to withstand the stresses of transport by truck and placement on a foundation by a crane. To achieve this strength, modules are often built using more material than comparable site-built houses. For example, many modules have both floor and ceiling assemblies even if they are part of a two-story house, creating a redundant assembly between the first and second floors. Similarly, the "marriage walls" between modules are twice as thick as a standard supporting wall. Some factories are adopting advanced framing techniques or looking for other ways to save material. Customized Structures, in Claremont, New Hampshire, uses open-web trusses to support the floors of its homes and uses two-stud corner framing and single-top plate framing for non-load-bearing walls. Although much of the added strength of modular houses is needed to withstand the stresses of transport, it may not make the house more durable on site. One company, however, is using the need for added strength to create housing that meets stringent hurricane codes. Stalwart Built Homes, in Panama City, Florida, constructs LEED-certified modular homes designed to withstand 200-mile-per-hour (320 km/h) winds. "Building in the factory gives us more control of the product," said company president Julius Poston, arguing that quality-control measures in the factory ensure that the correct size and number of fasteners are used to make the house strong enough to survive a hurricane. Not all prefabricated homes are overbuilt—panelized homes are not subject to the same transportation stresses as modular homes, since they are packed differently, and are therefore built in ways more akin to site-built homes. Connor Building Company, located in Middlebury, Vermont, builds historic reproduction homes with panelized components. Michael Connor, the company's president, argues that panelized construction allows him to control quality, and he refers to his company's process as "off-site manufacturing of a stick-built house," reinforcing the argument that panelized houses are not subject to the same overbuilding as modular houses. Workers in the Connor Homes factory build structural and partition walls and cut rafters to size; all of the pieces are then shipped to the site, where crews assemble them. Floor studs and rafters are cut to size in the factory but assembled on site, meaning that the company does not have to double floor and ceiling assemblies. To control both quality and historical accuracy, architectural trim and details are also prefabricated or cut to size in the factory and installed on site.

Less waste

One of the benefits of prefabrication is that waste materials from one house can be stored for later use, limiting the amount of material that ends up in the landfill. Although statistics on waste are lacking, Rebecca Woelke, director of media relations for Michelle Kaufmann Designs (MKD) in Oakland, California, told EBN the company's modular homes yield up to 70% less waste than typical site-built homes. Such waste savings may be exceptional, given MKD's green focus, but even mainstream housing manufacturers are moving towards waste reductions, driven by a focus on "lean production" techniques that save materials, time, and money. Lean production techniques were perfected in Japan, where Toyota successfully used them to streamline its manufacturing process. The prefabricated housing industry has followed Toyota's example, adopting techniques such as organizing materials and tools and bringing them closer to the worker, making a given task easier and more efficient. Lean production can also involve rearranging the order in which tasks are performed on a house, redesigning the house to make it more efficient to build and controlling the stock of needed materials so there is neither too much nor too little. Although some of these techniques could be used by production builders on site, they work best in the stability of a factory setting, where they can be fine-tuned over time.
2005 Construction Method of Single-Family Homes by Region

Prefabricated housing operates regionally, largely because of transportation costs. Both modular and panelized construction have a larger market share in the Northeast than in any other region.

In 2005, the Manufactured Housing Research Alliance (MHRA) prepared a report on lean production principles for the U.S. Department of Housing and Urban Development (HUD); MHRA compared survey data on efficiency and product quality from 141 manufactured and modular housing factories, then chose one factory to examine more closely. Among the lean production techniques recommended for that factory was ordering materials in sizes that would minimize or eliminate waste. For example, an exterior drywall product was being ordered in 8-foot sheets when 12-foot sheets would have been more appropriate. Changing to 12-foot sheets would not only save the factory money by lowering the labor costs of cutting drywall to size but also provide an environmental benefit, since properly sized sheets would minimize waste from trimming. Newer factories that focus on environmentally friendly homes are also among those most devoted to greening their operations. Xtreme Homes, a modular home manufacturer in Orville, California, reuses most cardboard shipping boxes before recycling them and sends any drywall that can't be used to a recycler that turns it into a soil amendment, according to Tim Schmidt, the company's president and CEO. Xtreme Homes also reuses pallets several times for shipping items to the site along with the house. At Customized Systems, the management decided to follow local tradition to get rid of materials it couldn't use or recycle: a large sign marked "free" directs passersby to materials piled in the parking lot. Like most free piles, Gillen said, this one disappears quickly. While many of these measures are not unique to the factory setting—onsite builders also have waste-management programs—the factory makes it easier to store materials for future uses, and tracking waste is simpler on the assembly line. At Connor Homes, for example, workers save any piece of lumber over six inches (15 cm) long for future use, a practice made possible by long-term storage space in the plant.

Better energy efficiency

According to Andrew Gianino, owner of modular house distributor The Home Store, in Whately, Massachusetts, building in a factory has another advantage: houses are built from the inside out, making insulating and air-sealing easier. A typical module is first framed and wired, then drywall is added, allowing insulation to go in behind the drywall before sheathing is added to the exterior. This allows workers to apply foam sealant behind outlets and other breaks in the wall more easily than if they were working from the inside. Houses are also built lower to the ground, making tough-to-reach corners more accessible for insulating and sealing.

The air-sealing of the whole house is only as good as the sealing performed between modules on site, however. A 1993 study, part of the Energy Efficient Industrialized Housing project sponsored by the U.S. Department of Energy, tested 11 houses for airtightness—four modular houses, four panelized houses, and three houses built with SIPs—and compared them with air-leakage numbers for average site-built houses. The study found that, while the panelized and SIPs-built houses performed better in the leakage tests than an average site-built house, the modular houses did not achieve the "full potential of greater energy efficiency possible with factory construction." Among the major sources of leakage in the modular houses, found with infrared imaging, were gaps between the "marriage walls" that connect modules, which had not been effectively sealed. The modular housing industry responded to these problems, and many manufacturers now offer Energy Star-certified homes, which are inspected in the factory by third-party raters and often inspected on site for air infiltration and duct leakage. It remains vital, however, that the general contractor performing the onsite work be familiar with modular construction and the procedure for ensuring a good seal between modules. The move toward Energy Star, though, has not resulted in many more energy-efficient homes, according to Thayer Long, executive director of the National Modular Housing Council, which represents the industry in Washington, D.C. Energy efficiency has been difficult to sell to homeowners because "it's difficult for a buyer to understand that a $2,000 investment up front is equal to greater savings down the road." Andrew Gianino at The Home Store agreed, noting that he has sold few Energy Star homes due to their higher upfront costs.

Lower transportation impacts

A site-built house requires designers, contractors, and laborers to travel frequently to and from the site. Materials must also be delivered to the site, often in multiple small batches of less than a truckload. Although more commonly used in prefabricated construction, a crane may be needed on site if the project calls for prefabricated roof trusses, increasingly common in site-built houses. Prefabricated housing involves centralized production: workers come to a factory each day to work on one or more houses, each of which is then shipped to its site. Materials are also shipped in bulk to the factory, often in full trucks. A site may be all the way across the country, but most sites are fairly close to the factory, since the industry is generally regional. Connor Homes, for example, serves mostly Northeast states from its factory in Vermont, but ships one or two homes to Mid-Atlantic states every year and recently shipped one home to British Columbia. Transportation efficiency varies depending on the manufacturer, housing type, and site location. A two-story modular house might use four tractor trailers, each carrying one module, several support vehicles traveling with the modules, and one or more trucks containing fixtures, flooring, or other parts to be installed on site. A crane must also travel to the site along with any other machinery used to prepare the site and the foundation. Several workers must travel to the site to button up the house. By contrast, a panelized house might be shipped in fewer trucks, since the detached panels take up less space than fully built modules. More components—kitchen cabinets, for example—must travel to the site individually, but they pack more tightly when not attached in a module. Technology is making transportation of panelized components more efficient: Bensonwood optimizes its transportation with the same three-dimensional computer-aided design (3D CAD) software used to design its homes. The software looks at the panels, timber frames, and other materials needed for the house and packs them into virtual trucks, maximizing the use of space so fewer trips are needed. One way to control the transportation impacts of prefabricated construction is to discuss property and site selection as well as house orientation with potential clients. This discussion (if it happens at all) is often limited to house orientation on a predetermined site. Although some companies will work with clients to locate and purchase land, many, such as MKD, require that clients already own land before entering the design process. Encouraging prefabricated house designers, manufacturers, and distributors to expand their services to property and site selection would lessen the transportation impacts not only of construction but also of daily commutes to and from the home after construction is complete.

Making It Affordable

Prefabricated housing has long been touted as a cost-saving building process, particularly in areas with high labor costs; modular and panelized houses take less time to build, thus lowering the amount of time one must pay for labor. This cost savings makes prefabricated housing a good choice for affordable housing, but green options such as increased insulation or environmentally friendly finish materials can currently raise costs, since the assembly line must be changed for a single house. John Abrams, of the design-build firm South Mountain Company on Martha's Vineyard, Massachusetts, has looked at using both panelized and modular construction for affordable housing projects on the island. The specifications for the most recent project, a group of ten homes called Jenney Way, were demanding, meeting LEED for Homes Platinum standards: walls with an insulation value of R-31, R-50 ceilings, triple-glazed windows on all but the south-facing side of the house (where double-glazed windows were used), and air-sealing, as well as environmentally friendly finishes and components free of added urea formaldehyde throughout. South Mountain approached two onsite framing subcontractors, two panelized-home manufacturers, one SIP manufacturer, and two modular-home manufacturers and asked for bids meeting the specifications of the project. One modular company could not meet the specifications and declined to bid. After adjusting for the level of finish provided by each company, all of the bids from prefabricated-housing manufacturers came in higher than the site-built option—some significantly higher. Abrams attributes this finding to the prefabricated-housing industry's lack of experience with high-performance buildings. "Once you change the specs and go outside a manufacturer's comfort zone, costs go up," he said. Abrams noted that another firm built affordable housing on the island using modular homes, because, when building to code, the costs were equivalent. Other aspects of the project, including its location on an island, made modular construction less attractive environmentally, requiring more ferry space and trucks to transport modules. Despite the results of his inquiries, Abrams is hopeful about the future of prefabricated housing: "There's tremendous potential to do better with modular," he said. John Quale, an assistant professor at the University of Virginia School of Architecture, runs EcoMOD, an educational curriculum designed around prototypes of environmentally friendly and affordable modular housing built using SIPs. Architecture, engineering, and landscape architecture students, very few of whom have construction experience, build all of the houses in a school-owned warehouse. "If you're trying to do sustainability," Quale said of affordable housing, "you're going to be using materials that are the same as, if not better than, those used in a market-rate home, so you need other strategies." Those other strategies are surprisingly simple: smaller is better, simpler is better, and SIPs offer a balance of performance and affordability that works with unskilled labor—necessary for affordable housing organizations, which often rely on volunteers to build homes. The first strategy is straightforward: smaller houses have a lower environmental impact and are less expensive to build, even if per-square-foot costs are higher. The second, simplicity, is an opportunity to cut labor costs and increase the reliance on volunteer labor. Complications in the roof design or room layout often require specialists for finishing and air-sealing; simpler designs require less specialized labor, saving money. Finally, the unique combination of SIPs and modular construction offers both ease of assembly and energy-efficient performance. The use of panels also offers flexibility. When EcoMOD builds a house for the local area, the students construct modules out of SIPs and ship them to the site on a truck. When they were working with Habitat for Humanity on a house in the Gulf Coast, however, they shipped the steel framing and panels separately because, Quale said, "it doesn't make sense to ship air." Although using SIPs with steel framing ultimately makes construction faster and easier for EcoMOD, Quale admits that they carry a learning curve, and the labor force would have to learn new skills to work with the system.

Checklist for Environmental Prefabricated Housing

Tedd Benson of Bensonwood agrees that panelized construction can work well with volunteer labor. Although many of the features of his houses are advanced, working with Habitat volunteers on the home in Walpole was simple: "Since our building and finish systems require very few fasteners anyway, the simple tools [the volunteers used] turned out to be appropriate and efficient," he said. Bensonwood homes are typically built with a timber frame that is cut with computerized tools in the factory and assembled on site. The wall panels are designed with pop-out panels to make electrical wiring simpler to install and change (see EBN Vol. 12, No. 2). Benson is currently working with a German company on an electrical connector that will enable the company to pre-wire each panel at the factory and connect the wires between panels simply and easily on site. These methods, among others, save on labor costs and make the house more affordable to live in, since changes to major systems require less time and therefore less money.

Final Thoughts

Prefabricated housing has come a long way from the metal-skinned trailer of the past, in design, construction, and energy efficiency. Some companies are using the efficiencies of prefabrication to bring green design and materials to more affordable homes, but the industry as a whole has a long way to go to address environmental building concerns. The strength of prefabrication—assembly-line efficiency—is also its weakness. Changing the specifications of a prefabricated home to add extra insulation or environmentally friendly materials requires a change in assembly-line procedure, which can be prohibitively expensive for a single house or a small group of houses. Thus, to realize the environmental potential for prefabrication, large segments of the industry should embrace better insulated, more energy-efficient houses with greener materials. In addition, the industry should begin to think about not only how it makes its houses but also where those houses are going, and discuss siting and transportation concerns with clients. Moving the industry in this direction won't be easy, but it is possible. "If the demand is there," said Gianino, "I promise you the manufacturers are going to be there to meet it."