Some Cattlemen Nervous About New Biolab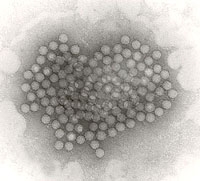 WASHINGTON (AP) -- The spread of a deadly livestock disease from a laboratory in Britain has not stopped U.S. officials from considering where to build a new animal disease research lab in this country.
The Aug. 3 outbreak of foot-and-mouth disease in Britain was tied to a government laboratory and a private vaccine manufacturer in Pirbright, England. Initial tests show a second outbreak, which is still under investigation, was the same strain as the lab-related outbreak.
Still, the Homeland Security Department is moving ahead with plans to consider relocating a similar lab isolated on Plum Island, N.Y., to one of five sites in the U.S. The final site for the lab should be announced next year, with the lab operating by 2014. The possibilities include Athens, Ga.; Manhattan, Kan.; Madison County, Miss.; Granville County, N.C., and San Antonio.
"No matter where we put it it's going to be safe and secure," said James Johnson, Homeland Security's director of national labs and the program manager for the planned lab.
Some cattlemen are skittish about building a lab near their livestock operations.
"The recent situation at Pirbright does give us some concerns," said Ross Wilson, chief executive of the Texas Cattle Feeders Association. His group represents 5,000 cattle feeders in Texas, New Mexico and Oklahoma, an area the group says is the largest cattle feeding region in America.
The Missouri Cattlemen's Association opposed efforts to persuade Homeland Security to pick a site in Columbia, Mo., as one of the finalists for the new lab.
"We thought it posed too many risks," said Jeff Windett, the group's vice president.
The livestock association in neighboring Kansas supports its state's effort to bring the lab there but wants assurances it will be built and operated safely, spokesman Todd Domer said.
The existing lab's former research facility director, Roger Breeze, said moving the lab to any state with a sizable livestock industry would be the worst place for it because of the risks to animals there.