Urea-Formaldehyde-Free Particleboard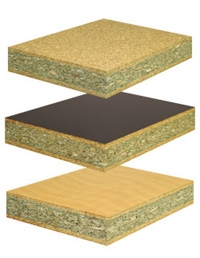 Roseburg Forest Products of Roseburg, Oregon, has introduced SkyBlend™, the first general-use particleboard produced with phenol-formaldehyde (PF) binder instead of the industry-standard urea-formaldehyde (UF). Standard particleboard can emit significant quantities of formaldehyde, a chemical reclassified in 2004 from a "probable human carcinogen" to a "known human carcinogen" by the International Agency for Research on Cancer (IARC) of the World Health Organization.

Though PF also contains formaldehyde, the chemical is locked more tightly to the wood fibers, and formaldehyde emissions are significantly lower. Due to formaldehyde offgassing concerns, the LEED® Rating System includes a credit for avoiding UF-based wood products. While SkyBlend is not the only particleboard product on the market made with PF binder, it is the only conventional particleboard with this distinction that EBN is aware of. Several specialized particleboard products made with PF resins, such as Resincore 1, made by Rodman Industries of Oconomowoc, Wisconsin, serve primarily niche markets.SkyBlend particleboard is made from western softwood fibers and is Green Cross-certified by Scientific Certification Systems (SCS) as being made from 100% recycled wood fibers (a post-industrial waste product from lumber mills). The wood fiber is not FSC-certified. The product offers the same physical properties as Roseburg's Ultrablend particleboard, which is produced with UF binder. While PF binders are more moisture-resistant than UF binders, the company is not claiming that SkyBlend is moisture-resistant. The particleboard core is tinted light blue so that it can be readily identified in the field.


According to M. Jeremy Gilliam of the company, "We wanted to make sure it was identifiable in the marketplace."Because the formaldehyde is tightly bound in SkyBlend's PF formulation, the product samples EBN examined were nearly odor-free. The company claims that the formaldehyde emissions result in a concentration of about 0.04 parts per million (ppm) under standard test conditions, which is comparable to levels occurring naturally in outdoor air. Typical particleboard, by contrast, can release 7.5 times as much and still meet industry-standard specifications. While touting the benefits of no added UF, Roseburg is forthright in explaining that SkyBlend particleboard is not formaldehyde-free. SkyBlend particleboard is available in industrial grade only, in seven thicknesses, from 1/4" (6 mm) to 1 1/8" (29 mm). Standard dimensions for most thicknesses are 49" x 97" (124 x 246 cm), while the 3/4" (19 mm) and 1 1/8" panels are also available in larger sizes.

Custom dimensions may be available for large orders. SkyBlend particleboard costs approximately twice as much as conventional particleboard, according to Gilliam. Even with the premium price, he says, the product is very competitive with other particleboard and medium-density fiberboard (MDF) products that are not made with UF resins—including Sierra Pine's Medite II® line and the straw particleboard products WoodStalk™ and PrimeBoard™, all of which are made with non-formaldehyde MDI (a polyurethane binder). SkyBlend is produced at Roseburg's Dillard, Oregon, factory, which has a capacity of about 400 million ft2 (40 million m2) of product, 3/4" basis. If demand warrants it, Gilliam told EBN that the company could devote at least one-quarter of the plant's output to SkyBlend, producing more than 100 million ft2 (9 million m2) per year. The product will be available through selected distributors within the Roseburg distribution base.