Rain Stops Banff Beetle Blight Burn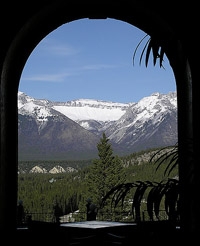 VANCOUVER, British Columbia - Wet weather has thwarted a Canadian plan to stem the spread of tree-killing pine beetles eastward through the Rocky Mountains by burning an Alberta forest near Banff National Park, an official said on Wednesday.
The province of Alberta had planned to burn about 80 square kilometers of trees last week and it is now too late to make the attempt this year, said Duncan MacDonnell, a spokesman for the province's Sustainable Resource Development ministry.
Burning the swath of forest near Nordegg, Alberta, would reduce the number of mature lodgepole pine trees that the mountain pine beetles could attack to lay eggs as they spread east from British Columbia.
The province may make another attempt to ignite a controlled forest fire in the spring, and will continue with harvesting plans that it already had in place, MacDonnell said.
Nature normally controls pine beetles with forest fires and extremely cold weather that destroys the insect's larvae, but a lack of cold winters in Western Canada in recent years has allowed them to spread largely unchecked in British Columbia.