Affordable Solar Power On The Horizon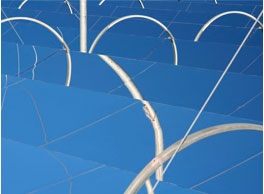 Cambridge, UK - Environmentally friendly solar panels may be an affordable alternative to conventional power sources within the next ten years, as a result of a new initiative launched this week.
The project, funded by the Carbon Trust, will be led by the University of Cambridge's Cavendish Laboratory in collaboration with The Technology Partnership.
Currently solar panels are made from silicon, which makes them expensive to manufacture and therefore cost prohibitive for many. However, new technology being researched at Cambridge uses plastic to create solar cells, a much more cost effective and energy efficient method.
The scientists have already developed a small prototype solar panel that can power a calculator. The next step will be to advance this technology so that it can be easily applied on a much larger scale and ultimately be manufactured in large sheets of plastic. These sheets will be able to sit on a wide range of surfaces, including windows or building roofs, to capture solar energy. Simple applications could also include chargers for mobile telephones or laptop computers.
If the project succeeds in its aim to deploy more than 1 gigawatt of power using the new solar panels by 2017, it could deliver CO2 savings of more than 1 million tonnes per year.
Sir Richard Friend, Cavendish Professor of Physics in the University of Cambridge, said:
"We are delighted to work with The Technology Partnership and the Carbon Trust on solar energy. This is a timely opportunity to build on technology developed in the University, and we will capitalise on the local Cambridge strengths in taking science to manufacturing."
For further information, please contact the University of Cambridge Office of Communications on 01223 332300