USDA Salmonella Alert On Some Turkey, Chicken Pot Pies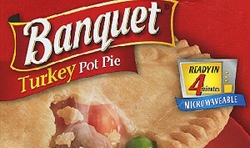 The USDA's public health alert applied to Banquet brand turkey and chicken pot pies and store-brand not-ready-to-eat pot pies with "P-9" printed on the side of the package, said USDA's Food Safety and Inspection Service.
FSIS said it was investigating a Missouri establishment that voluntarily ceased operations on Tuesday "due to reported illnesses linked to their products." FSIS said it conferred over the weekend with public health officials, who said their work suggested a meat product was a potential source of contamination. FSIS sent investigators to the plant on Monday.
Consumers should not eat the turkey and chicken pot pies covered by the alert, said FSIS, until it determines the source, products and potential production dates of contamination and proper cooking instructions.
ConAgra Foods Inc also advised against eating the products and offered a refund on them through the mail or retailers. ConAgra said it "believes the issue is likely related to consumer undercooking of the product."
Based in Omaha, Neb., ConAgra is one of the largest U.S. food companies, sending products to grocers, restaurants and food service establishments. ConAgra brands include Healthy Choice, Chef Boyardee and Hebrew National.
In a news release, ConAgra said it was working with USDA "to identify any additional steps that may be appropriate, including potential changes that may further clarify cooking instructions for consumers."
It said it is revising its packages "to more clearly illustrate different cooking times for Banquet pot pies related to varying wattages of microwaves."