Survey: San Francisco, Seattle Tops For Organics Consumers; Wal-Mart, Costco #1 Organic Grocery Stores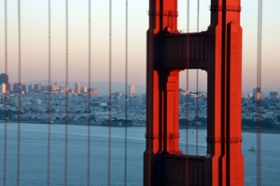 New York – The West Coast is a stronghold for organics consumers, with 35 percent of San Francisco adults using organic foods during the past month, making it the top U.S. city for organics users. In Seattle (32 percent of Seattle adults used organic foods during the past month), Portland, OR (27 percent), Washington D.C. and Denver (26 percent, each) and San Diego (24 percent) round out the top markets for organics consumers. In the total US.,17 percent of all adults are organics users.

Out of the 79 local markets measured by Scarborough, 23 were identified as organics markets, or those markets that have an above-average percentage of organics consumers. Of these 23 organics markets, more than half (13 cities) are in the Western census region, more than one-quarter (six cities) are in the Southern census region, three cities are in the Northeast, and one is in the Midwest (Minneapolis, MN).
"The top five markets for organics consumers have youth, higher than average annual household incomes, and a fitness mentality in common," said Alisa Joseph, vice president, advertiser agency services, Scarborough Research. "Cities such as San Francisco and Seattle have long been known for active, healthful lifestyles, and therefore it makes sense that these are the top markets for organics users. However, the industry should keep an eye on the Southern region of the U.S., as many markets there have a significant presence of organics consumers as well.


What they mean: "Organics users/consumers": Adults who used any organic food product in their household during the past month.
"Organics markets": Cities (DMA®s) measured by Scarborough that are more likely than the national average to have organics food consumers.

Organics consumers are young, affluent, and big spenders on groceries Nationally, organics consumers spend an average of $127 on their weekly household grocery bill – that is 10 percent higher than the national norm of $115. This is not surprising, given that organics consumers tend to be in high-income brackets. Their annual household income of $86,000/year is 22 percent higher than the national
average. Organics consumers tend to be young and have families – they are 19 percent more likely than the national average to be ages 18-34 and 13 percent more likely to have two or more children at home.

Wal-Mart Supercenter top grocery store used by organics; but Whole Foods has the highest concentration of organics consumers in their aisles. Wal-Mart Supercenter, the leading grocery store in the country, is also the top grocery store for organics users. Twenty-nine percent of organics consumers shopped Wal-Mart Supercenter during the past week.

However, when it comes to having a special appeal to organics consumers, Whole Foods leads the pack. Organics consumers are 272 percent more likely than the average consumer to have shopped Whole Foods during the past week. By contrast, they are 21 percent less likely to have shopped Wal-Mart Supercenter during this timeframe.

Other grocery stores that have a higher than average concentration of organics consumers include Trader Joe's (organics consumers are 180 percent more likely than the average consumer to have shopped Trader Joe's during the past week); Safeway (72 percent more likely); Costco (70 percent more likely); and SuperTarget (50 percent more likely).

"An organics user's local grocery store availability will dictate where they shop. Whole Foods and Trader Joe's have established themselves in the organics market, and as such are more popular among organics users. However, a high percentage of organics users shop prominent U.S. stores such as Wal-Mart due to its significant local market penetration," said Ms. Joseph.

Wine and imported beer are hot items among organics users Wine and imported beer may be leading beverage categories to promote to organics users. Wine is a popular beverage among organics consumers. One in four organics users aged 21+ bought wine at a grocery store during the past month, and they are more likely than the total 21+ market to have bought all types of wine – from
sparkling and white wines to reds and roses. Beer, particularly imported beer, is also a popular beverage item. Almost one-third (31 percent) of organics shoppers drank an imported beer during the past month, versus 20 percent of the total 21+ adult population. Organics consumers are 24 percent more likely to have bought beer at a grocery store during the past month.

Top Local Markets for Organics Consumers and the percentage of population using organics

San Francisco/Oakland/San Jose, CA 35
Seattle/Tacoma, WA 32
Portland, OR 27
Washington, D.C. 26
Denver, CO 26
San Diego, CA 24
Austin, TX 23
Sacramento/Stockton/Modesto, CA 22
Boston, MA 21
Phoenix, AZ 21
Atlanta, GA 21
Los Angeles, CA 21
Albuquerque/Santa Fe, NM 21
Colorado Springs/Pueblo, CO 21
Spokane, WA 21
New York, NY 20
Salt Lake City, UT 20
Greenville/Spartanburg/Asheville/ Anderson, SC 20
Tucson, AZ 20
Albany/Schenectady/Troy, NY 19
Miami/Ft.Lauderdale, FL 19
Dallas/Fort Worth, TX 18
Minneapolis/St. Paul, MN 18
Hartford/New Haven, CT 17
Detroit, MI 17
Milwaukee, WI 17
Las Vegas, NV 17
Philadelphia, P A 17
Chicago, IL 16
Providence/New Bedford, RI 16
Bakersfield, CA 16
Honolulu, HI 16
Raleigh/Durham, NC 16
Tampa/St.Petersburg, FL 15
El Paso, TX 15
Houston, TX 15
Orlando/Daytona Beach/Melbourne, FL 15
Baltimore, MD 15
Charlotte, NC 15
West Palm Beach/Fort Pierce, FL 15
DMA® % Columbus, OH 15
Fresno/Visalia, CA 15
Harrisburg/Lancaster/Lebanon/ York, PA 15
Greensboro/High Point/ Winston-Salem, NC 13
Jacksonville, FL 13
Indianapolis, IN 13
Chattanooga, TN 13
Cincinnati, OH 13
Oklahoma City, OK 13
Cleveland/Akron, OH 13
Norfolk/Portsmouth/ Newport News, VA 13
Rochester, NY 13
Dayton, OH 12
Mobile/Pensacola, FL 12
San Antonio, TX 12
Wichita/Hutchinson, KS 12
Syracuse, NY 12
Wilkes-Barre/Scranton, PA 12
Kansas City, MO 11
Lexington, KY 11
Knoxville, TN 11
Nashville, TN 11
Buffalo, NY 11
Richmond/Petersburg, VA 11
Flint/Saginaw/Bay City, M I 10
St. Louis, MO 10
Louisville, KY 10
Tulsa, OK 10
Pittsburgh, PA 10
Fort Myers/Naples, FL 10
Memphis, TN 10
Roanoke/Lynchburg, VA 10
Green Bay/Appleton, WI 10
Little Rock/Pine Bluff, AK 10
Toledo, OH 10
Charleston/Huntington, WV 9
Grand Rapids/Kalamazoo/Battle Creek, MI 8
Birmingham, AL 8
Des Moines/Ames, IA 8