U.S. Fish and Wildlife Service to Consider Black-footed Albatross for Protection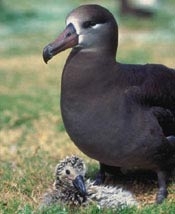 Washington - The black-footed albatross may be listed as a threatened or endangered species under the Endangered Species Act. The U.S. Fish and Wildlife Service has determined that the petition presents substantial scientific and commercial information indicating that listing the black-footed albatross may be warranted.

On October 1, 2004, the Service received a petition from EarthJustice, on behalf of Turtle Island Restoration Network and the Center for Biological Diversity, requesting that the Service list the black-footed albatross (Phoebastria nigripes) as a threatened or endangered species and that critical habitat be designated concurrently with the listing.

In December 2004, the Service sent EarthJustice a letter acknowledging receipt of the petition. At that time, the Service determined that emergency listing was not warranted, and due to an excessive workload driven by court-orders and court approved settlement agreements, staff could not initiate a 90-day finding. In 2007, the Service reviewed the petition and today published the 90-day finding in the Federal Register.


"The health of this majestic seabird is a concern for all of us who care about marine ecosystems," said Patrick Leonard, field supervisor for the Fish and Wildlife Service's Pacific Islands Fish and Wildlife Office. "Our next step in the process is to initiate a status review of the species followed by a 12-month finding to determine if listing is actually warranted."

During the 12-month finding, a species may be determined to be an endangered or threatened species due to one or more of the following five factors:

* the present or threatened destruction, modification, or curtailment of its habitat or range;
* overutilization for commercial, recreational, scientific, or educational purposes;
* disease or predation;
* the inadequacy of existing regulatory mechanisms; and
* other natural and manmade factors affecting its continued existence.

For example, the 12-month review will evaluate the effects of incidental mortality from commercial longline fisheries. Albatrosses' propensity for pursuing baited fishing gear, especially that deployed by longline vessels, leads to their being hooked on weighted lines, dragged underwater, and drowned. According to published models of incidental mortality of black-footed albatross in fisheries, as much as 1.9 to 5 percent of the population may be killed in longline fishery operations annually.

Other examples of threats to the species include levels of mercury and organochlorine contaminants such as PCBs and DDT that have been shown to be higher in North Pacific albatrosses than in species in the southern hemisphere, and these contaminant concentrations are higher in black-footed than in Laysan albatrosses. These substances are used in industry and agriculture, and once they make their way into the sea are found in concentrations that increase with the progression through the food chain from primary producers to top predators. Black-footed albatrosses are top predators in marine ecosystems, and levels of these contaminants found in the species were determined to be high enough to pose a toxicological risk and interfere with reproduction.

Of the three North Pacific albatross species, the black-footed is the only dark-colored species. Its plumage is uniformly sooty brown in color with a whitish ring at the base of the bill and a white patch behind the eye. Mature birds display a white patch above and below the tail. The bird's wingspan can reach 6 to7 feet and their average weight is approximately 6 pounds. A surface feeder and scavenger, the primary natural prey of the black-footed albatross is thought to be flying fish eggs and squid.

The total breeding population of the black-footed albatross numbers roughly 61,000 pairs, with 97 percent of the population nesting in the predator-free Northwestern Hawaiian Islands. The majority of those are found on Midway Atoll and Laysan Island. The remaining 3 percent of the birds nest on several remote islands in Japan. Exploitation of the species for eggs and feathers in the 19th and early 20th centuries eliminated breeding colonies on four islands or atolls and in two island groups across the Pacific.

Black-footed albatross can live as long as 40 to 50 years and are slow to mature with the first breeding typically occurring at 8 to 10 years of age. Pairs mate for life and breed a maximum of once each year with both adults providing care for the chick. Birds arrive in the Hawaiian nesting colonies in October, producing a single egg usually by early December. Eggs hatch between January and February, and chicks fledge by mid- to late July.

The Service is soliciting data and other information regarding the species to ensure a comprehensive review. To be considered in the 12-month finding for this petition, data, information and comments must be submitted to the Service by December 10. Comments and materials concerning this 90-day petition finding should be sent to Pacific Islands Fish and Wildlife Office, U.S. Fish and Wildlife Service, 300 Ala Moana Boulevard, Room 3-122, Box 50088, Honolulu, HI 96850 or to fw1bfal@fws.gov.

Comments and materials provided by the public, including names and home addresses of respondents are available for public review. Respondents may request that the Service withhold their identity, to the extent allowable by law. Anonymous comments will not be considered. Comments received will be available for public inspection, by appointment, during normal business hours at the Pacific Islands Fish and Wildlife Office.

Copies of the Federal Register notice may be downloaded from the Service?s website at http://www.fws.gov/pacificislands/. Copies are also available by calling the Fish and Wildlife Service office in Honolulu at (808) 792-9400.

The U.S. Fish and Wildlife Service is the principal Federal agency responsible for conserving, protecting and enhancing fish, wildlife and plants and their habitats for the continuing benefit of the American people. The Service manages the 97-million-acre National Wildlife Refuge System, which encompasses 548 national wildlife refuges, thousands of small wetlands and other special management areas. It also operates 69 national fish hatcheries, 64 fishery resources offices and 81 ecological services field stations. The agency enforces federal wildlife laws, administers the Endangered Species Act, manages migratory bird populations, restores nationally significant fisheries, conserves and restores wildlife habitat such as wetlands, and helps foreign and Native American tribal governments with their conservation efforts. It also oversees the Federal Assistance program, which distributes hundreds of millions of dollars in excise taxes on fishing and hunting equipment to state fish and wildlife agencies.