Sarkozy seeks a "greener" France at policy congress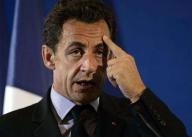 PARIS (Reuters) - Green politics in France, long the domain of anarchic protests over genetically modified crops and hamburgers, moves mainstream next week at a congress billed as one of President Nicolas Sarkozy's showpiece reform measures.
Sarkozy stressed his concern over global warming in the first statement he made after winning the presidency in May and pledged a radical overhaul of environmental policy.
The meeting on Wednesday and Thursday, bringing together government, environmentalists, scientists and business leaders, is one of the highest profile green initiatives ever in France.
Nicolas Hulot, a popular television personality and environmentalist who is one of the instigators, says the aim is to draw the lines for a new approach to environmental policy.
But he has expressed concern about "the incredible power of the lobbies," saying "good intentions are not enough."
Six working groups have been thrashing out proposals on issues ranging from energy-efficient buildings and green taxes to air pollution, renewable energy and organic farming and acres of newspaper coverage have been devoted to the event.
There have been sharp disagreements over nuclear power, responsible for some 80 percent of France's electricity output and proposals for a carbon tax as well as other issues including a proposal for a 10 km/hr (6 mph) reduction in the speed limit.
The conference underlines the extent to which worldwide concerns over global warming and other environmental issues have reached France, where the fractured green movement traditionally has been consigned to the political fringes.
France's environmental movement has been characterized by charismatic activists such as Jose Bove, whose protest actions have included trashing a McDonald's restaurant and wrecking genetically modified crops fields.
NEW CONVERT
Environment Minister Jean-Louis Borloo, a rumpled former employment minister and lawyer, has been preaching the green gospel in the Sarkozy cabinet with the zeal of a new convert.
"We have to use this crisis as an opportunity to change society," he said at the launch of discussions in July. Since then he has been all over France and as far away as Greenland, where he jetted to see the melting polar ice cap first hand.
A study by pollsters CSA for an alliance of environmental groups showed overwhelming support for developing renewable energy sources and saving energy, reducing the use of agricultural pesticides and developing organic farming.
Nicholas Stern, a former World Bank chief economist and author of an influential report on global warming, chairs one of the working groups, adding international flavor.
Environmental groups such as Greenpeace, closely involved in the process, have been supportive but skeptical as well.
"The table is laid but we still don't know what we're going to get to eat," the group said in a statement last week.