Wildfires rage in southern California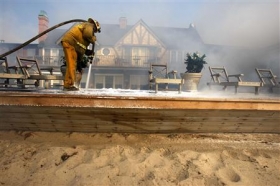 LOS ANGELES (Reuters) - At least nine wildfires stoked by gusting winds burned out of control in southern California on Sunday, killing one person in San Diego and forcing hundreds to evacuate the wealthy enclave of Malibu where five homes went up in flames.
The Malibu fire burned 1,250 acres by 4:30 p.m. and destroyed at least seven buildings, including a landmark castle-like house and a Presbyterian church, officials said. No injuries were reported.
To the south in San Diego County, officials said one person died, while four residents and four firefighters were injured in a fire that scorched 2,500 acres. Another blaze in that county burned 3,000 acres.
Malibu saw some respite in the afternoon, but authorities warned the fierce Santa Ana winds that roar through California's canyons remained erratic and could double in speed overnight.
"Have a plan and be prepared," Malibu Mayor Pamela Conley Ulich told a news conference. "The winds, although they are dying down, could kick up again this evening."
Malibu, a town of about 13,000 residents, is 25 miles (40 km) west of Hollywood and home to legions of entertainers who flock there for the privacy of the beachfront homes or expansive canyon ranches complete with riding stables.
Los Angeles County Fire Chief P. Michael Freeman said the fire was expected "to last a couple of days and literally thousands of homes are going to be threatened."
Residents said the predawn fire took them by surprise and gave them little time to pack belongings and get out.
"We were in the house and the fire was burning all around us," said Malibu philanthropist Lilly Lawrence, whose Castle Kashan was engulfed by the flames after she and a house guest escaped.
"The loss is way up in the double-digit millions," Lawrence said in an interview, noting the home contained family heirlooms, paintings and Elvis Presley memorabilia bought from his Graceland estate.
1,000 FIREFIGHTERS AT MALIBU
Freeman said 700 firefighters were battling the Malibu fire and 300 more were expected to arrive overnight.
There was no confirmed cause for the fire, which authorities have named the Canyon Fire, but Freeman said there was speculation that downed power lines might have sparked it as wind gusted around 60 mph.
The Santa Monica mountains above Malibu are tinder dry as Southern California comes out of one of its driest years on record with rainfall around one-fifth of average.
California Gov. Arnold Schwarzenegger said he was receiving briefings on the fire and would send more resources if needed.
"I ... have committed to sending additional personnel and equipment, if needed, as well as setting up evacuation centers to help those who have been displaced from their homes," Schwarzenegger said in a statement.
Some 200 homes were under mandatory evacuation in Malibu, while horse owners in some areas were ordered to evacuate their animals. The main coastal highway through the area was shut from both the north and the south.
Pepperdine University, near the commercial center of Malibu, was under voluntary evacuation but moved thousands of students to safe areas on the campus that was built with the high wildfire risk in mind. Students were given gauze masks for breathing protection.
Wildfires are so common in Malibu that actress and resident Shirley MacLaine once joked the postal zip code should be changed to "911" -- the phone number for emergencies.
Authorities told people to avoid Malibu beaches. But surfers were seen in the water taking advantage of the waves powered by high winds.
(Additional reporting by Duncan Martell in San Francisco)
© Reuters2007All rights reserved