Solar cars race from Australia's top to bottom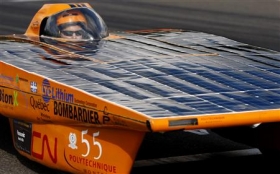 SYDNEY (Reuters) - Sun-powered-car enthusiasts from around the world raced into the Australia outback on Sunday at speeds nearing 100 kilometres-per-hour at the start of the World Solar Challenge.
Thousands of onlookers crowded the streets of Darwin in Australia's tropical north for the beginning of the 3,000-km (1,863 mile) race, a biennial event since 1987, gawking at the sleek foil-like vehicles resembling giant microchips.
The only rule over the mostly straightaway course through Australia's "red centre" in temperatures that can exceed 50 degrees Celsius is that the custom-built vehicles run on nothing but the sun.
"The drivers will be sitting on between 90 and 100 kilometres per hour as much as they can, though most are capable of going faster," said race coordinator Chris Selwood.
"But this really is not just about who is the fastest, it's more about energy efficiency and management," he said.
The racers from 17 countries were warned they were likely to encounter gusting desert winds, blazing temperatures, irate truck drivers and even kangaroos over three or four days before hopefully zooming across the finish line in the Southern Ocean port city of Adelaide.
Three times winner Nuon Solar from the Netherlands holds the race record of 29 hours and 11 minutes.
For obvious reasons, racing each day takes place only during daylight hours. Drivers and crew of the more than 40 vehicles are required to camp out where they end up each night.
"It started out sunny and humid but there were some clouds starting to form, but that's just one more piece in the chess game as far as I'm concerned," Selwood said.
A vehicle entered by the University of Michigan in the United States so far provided the only "hiccup" in the race, colliding with its support vehicle several kilometres from the starting line, Selwood said.
"Nobody was hurt and they hope to get back in the race," he said.
Gasoline/electric hybrids and ethanol production cars were also racing in separate categories.
© Reuters2007All rights reserved