Spain's hydro-electric reserves fall to 55 pct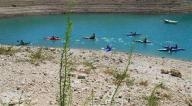 MADRID (Reuters) - Water levels in Spain's hydroelectric reservoirs dropped almost three points to 55.0 percent of capacity in the past week as little or no rain fell over northern and central areas, official data showed on Tuesday.
Only reservoirs on the east coast received more than the historical average, as levels dropped from 57.7 percent last week.
The level compares to 57.6 percent in the same week in 2006 and a 10-year average of 59.3 percent for the 43rd week of the year, the Environment Ministry said.
That means there are 8,438 gigawatt hours (GWh) of electricity available, 327 less than the previous week and only 4.3 percent more than a year ago -- compared to 15.8 percent in the last bulletin -- and 3.8 percent less than the average for the decade.
In the last week, power companies have generated 436.5 GWh of hydroelectric power, taking the total so far this year to 22,989 GWh, which is 37.6 percent more than the same period last year.
In a good year, some 12 percent of Spain's electricity comes from hydropower, but in dry years like 2005 and 2006, this falls to about 8 percent.
Drinking water reservoirs levels slipped to 38.8 percent from 39.1 percent last week, 32.0 percent in the same week last year and an average of 45.1 percent as an average for week 43 over the last 10 years.