GE hopes to cut mercury in "green" light bulbs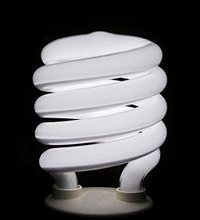 NISKAYUNA, New York (Reuters) - General Electric Co is working to cut the amount of mercury in energy-saving fluorescent lightbulbs which have soared in popularity.
Residents and businesses are buying up compact fluorescent lightbulbs (CFLs) because they reduce power bills as well as emissions of carbon dioxide, the main gas blamed for global warming. CFLs use only one-fourth to one-fifth the energy of incandescent bulbs producing the same light and can last 10 years.
The corkscrew-shaped devices are made by many companies and on average contain about 5 milligrams of mercury, a toxic metallic element, according to the Environmental Protection Agency.
Five milligrams is tiny amount, about the size of the tip of a ballpoint pen, and much less than the amount that was held in old thermometers. But with sales of CFLs hitting 150 million units last year, and more expected this year, some scientists and environmentalists are worried that most of the bulbs are ending up in landfills instead of being recycled.
"We're raising investments to get mercury down. If we can get it down to 1 milligram of mercury, that is a big breakthrough," Lorraine Bolsinger, vice president for GE's green unit called ecomagination, told reporters at the company's global research center in upstate New York.
Mercury is a poison that can hurt the nervous system and damage the kidneys and liver.
Garbage haulers are worried because bulbs that are not recycled can break before they reach landfills and may contaminate them. John Skinner, the director of the Solid Waste Association of North America, said in an interview that many bulbs still end up in the waste stream despite efforts to recycle them.
U.S. regulators, manufacturers and environmentalists note that because CFLs require less electricity than traditional incandescent bulbs, they reduce overall mercury in the atmosphere by cutting emissions from coal-fired power plants.
But some of the mercury emitted from landfills is in the form of a vapor that can reach ecosystems more readily than mercury released directly from coal-fired power plants, according to Steve Lindberg, emeritus fellow of the U.S. Department of Energy's Oak Ridge National Laboratory.
Still, the bulbs are growing in popularity around the world. Pacific Gas and Electric Co., a subsidiary of PG&E Corp, said this month it will give away 1 million of the bulbs to reduce energy use and cut emissions of greenhouse gases.
China has agreed to phase out conventional incandescent bulbs, a transition that could be made in the next 10 years. The move could mitigate 500 million tons of greenhouse gas carbon dioxide annually. Canada and Australia have also decided to ban the incandescent bulb, and California's government has considered a similar ban.
GE's Bolsinger said the company opposes such bans because it is working to make incandescent bulbs super-efficient. If the bulbs make it to market, they would have the added bonus of being mercury-free.
(Additional reporting by Lisa Von Ahn in New York)
© Reuters2007All rights reserved