Beijing meeting Pledges but Pollution a Concern: U.N.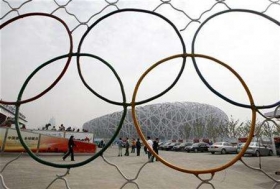 BEIJING - Beijing's air pollution remains a concern for the 2008 Olympics, even though the city is well on its way to fulfilling the environmental pledges made when it bid to host the Games, a United Nations report said on Thursday.
The 163-page report, by the U.N. Environment Program (UNEP), highlighted some "concerns and missed opportunities" but said the Chinese capital had made "significant strides" towards hosting a "Green Olympics."
"There is no doubt the environmental projects developed in Beijing, prompted or accelerated by the award of the Olympics, represents a long-term positive legacy for the city," UNEP's director of communications, Eric Falt, told a news conference in Beijing.
Air quality has been one of the biggest issues facing the organizers of next August'Augusts's Games, and International Olympic Committee (IOC) chief Jacques Rogge said in August that some endurance events might have to be rescheduled if the pollution was too heavy.
"While it cannot be denied that Beijing ... has made, and continues to make, strenuous efforts to improve air quality ... air pollution is still the largest environmental and public health issue facing the city," said the report, Beijing 2008 Olympic Games, An Environmental Review.
"It remains a legitimate concern for Olympic organizers, competitors and observers, as well as for the citizens of Beijing," it added.
Of particular concern were the high levels of small particulate matter (PM10), which are sometimes more than 200 percent above recommended safe levels.
The report doubted the Beijing government's assessment that the PM10 levels were caused by airborne dust and sand and said emissions from coal burning would appear to be largely responsible.
Overall, however, the report was highly positive about Beijing's work in matching the 20 environmental pledges made when the city bid to host the Games.
"Beijing has already achieved many of its bid commitments ... and appears well on its way to fulfilling all of them," Falt said.
Falt added he hoped the measures put in place for the Games would prove a catalyst for environmental improvement in the rest of China.
"If these new environmental standards are adopted countrywide and help to influence China's overall development we certainly can conclude that the award of the 2008 Olympic Games can be counted as a success," he said.