Children kept indoors as Beijing fog turns to smog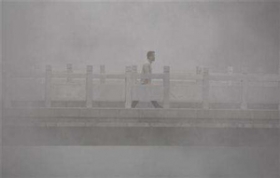 BEIJING (Reuters) - Beijing's weather office warned children and the elderly to stay indoors on Friday as heavy fog blanketed the host city of the 2008 Olympics, exacerbating its chronic air pollution, Chinese state media reported.
Fog caused severe delays at Beijing airport and reduced visibility in the centre of the city to less than 200 meters.
"The fog will not only affect the traffic but also harm humans' respiratory system. I suggest old people and children avoid going outdoors or wear a mask," Sun Jisong, the city's chief weatherman, told the official Xinhua news agency.
Beijing is committed to improving air quality in time for the August 2008 Olympics but a United Nations Environment Program report released on Thursday said it remained a problem.
In a speech at the World Conference on Sport and the Environment, also on Thursday, Olympics chief Jacques Rogge reiterated that some endurance events at the Games might have to be rescheduled if the air quality was too poor.
The fog was expected to clear later on Friday with a cold air front bringing a breeze and light rain to the city, Xinhua said.
© Reuters2007All rights reserved