Croc hunter Irwin believed he'd die young: wife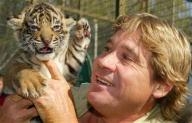 CANBERRA (Reuters) - Quirky crocodile hunter Steve Irwin had a sixth sense that he would die young, his American-born wife Terri said on Monday.
More than a year after the Khaki-clad naturalist died from a stingray's barb that pierced his heart, Terri Irwin told Australian television she had always tried to deflect her 44-year old husband's darker moments.
"He wasn't morbid about it, or awful about it, he was open and earnest about it. We've got to accomplish everything we can," she told Australian Broadcasting Corp. television's Enough Rope series. "Steve had a real sixth sense about so many things. He had an odd connection with wildlife. He was extraordinarily intuitive with people. I found it all very, I don't know if 'eerie' is the word, but remarkable, certainly."
Terri Irwin is writing a book about her life with her husband and said she had always tried to joke about Steve's premonition that he would die before he reached 40.
"I think that's an interesting angle, the risks that he took," she said in the interview broadcast on Monday.
"I would analyze that through our whole married life, and I have to tell you, I very infrequently worried about Steve with wildlife because he was that good.
"For him, the risks really in my mind were more the places he would travel, the modes of transportation, political unrest, disease risk, these sorts of things where he was filming."
She said Irwin became more aware of the risks he took with animals after having his first child Bindi, who now aims to carry on her father's wildlife legacy.
"He wanted to be here for the kids, and yet he always had that feeling something was going to happen early on," Terri said.
"He was such a frightening force of nature here on Earth. I'm sure he's out on his way to sink some Japanese whaling ships right now."