Cemeteries not just for the dead, say architects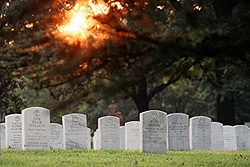 LONDON (Reuters) - Cemeteries should not just be for the dead but could become places of relaxation and exploration, a British architects' lobby group said on Wednesday.
CABE, the Commission for Architecture and the Built Environment, said cemeteries were originally intended as public open spaces and, in some towns and cities, cemeteries account for up to half of the green open spaces.
"Cemeteries should not be considered solely as resting places for the dead, they should be designed with the living in mind too," said CABE director Sarah Gaventa.
"The great Victorian cemeteries were designed and maintained as beautiful public parks for the enjoyment of all. Every local authority should have them in their green space strategy and ensure that their full value is realized.."
Urban planners should build visitor facilities and walks in cemeteries to encourage people to explore and take exercise.
"With proper care, nature can flourish, making cemeteries more interesting and colorful places," CABE said in a statement in its Web site. There are an estimated 12,000 to 20,000 churchyards, cemeteries and burial grounds in Britain.