Pope and Saudi king to hold landmark meeting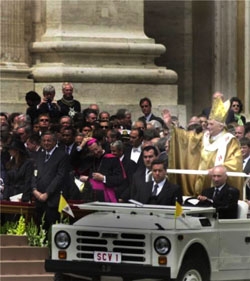 VATICAN CITY (Reuters) - Pope Benedict will meet Saudi Arabia's King Abdullah next week for talks expected to centre on Christian-Islam relations, the Vatican said on Wednesday.
The first talks between a Saudi monarch and a pope will take place on Tuesday. The king, currently in Britain, will be in Italy to meet government officials.
The Vatican does not have formal diplomatic ties with Saudi Arabia and relations have been strained. The Vatican has often called for greater rights for the tiny Christian minority there.
The Christians, mostly guest workers, are not allowed to practice their faith in public, the Vatican says.
Abdullah is custodian of the mosques in the Saudi cities of Mecca and Medina, sites of pilgrimages by millions of Muslims every year.
Muslims around the world protested last year after Benedict, speaking at a university in his native Germany, used a quote that associated Islam with violence. He said he was misunderstood and later expressed his esteem for Muslims.