Bill Clinton: "Green" economy offers great rewards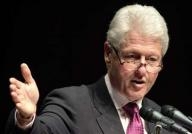 SEATTLE (Reuters) - The shift to a green economy is the biggest economic opportunity facing the United States since the military buildup to World War Two, former President Bill Clinton said on Thursday.
Addressing the U.S. Conference of Mayors' Climate Protection Summit, Clinton said initiatives to combat global warming, such as the retrofit of old buildings and switching to more fuel-efficient cars, would create jobs and boost wages.
"In my view for the United States, it is the greatest economic opportunity we've had since we mobilized for World War Two," Clinton said. "If we do it right, it will produce job gains and income gains substantially greater than the 1990s."
Clinton spoke to a group of U.S. mayors who have agreed to meet the goals of the Kyoto Protocol, the international agreement for fighting climate change.
President George W. Bush rejected Kyoto and its mandatory emissions caps in 2001, but more than 700 cities representing 75 million Americans have agreed to cut their heat-trapping gas emissions 7 percent from 1990 levels by 2012.
Seattle Mayor Greg Nickels has spearheaded the movement.
During the speech, the former president said the Clinton Climate Initiative would extend its purchasing consortium of energy-efficient and clean-energy products to 1,100 U.S. cities to get volume discounts for items like green vehicles and alternative energy technologies.
The purchasing consortium was set up for a group of some of the world's 40 largest cities, including New York and London.
Cities account for 2 percent of the world's landmass, but produce 75 percent of the world's carbon emissions, according to Clinton.
Most scientists link greenhouse gases, such as carbon dioxide emitted from the burning of fossil fuels, to global warming that could lead to heat waves, stronger storms and flooding from rising sea levels.
Bush rejected the Kyoto plan, saying it will cost U.S. jobs and that it unfairly burdened rich countries while exempting developing countries like China and India.
Clinton rejected the notion, saying America must prove to China, India and other developing nations that addressing the climate change problem will stimulate their economies.
Al Gore, Clinton's vice president, shared this year's Nobel Peace Prize with the U.N. Intergovernmental Panel on Climate Change for raising awareness of global warming.