UN Environment Programme to Assess 300 Oil-Polluted Sites in Nigeria's Ogoniland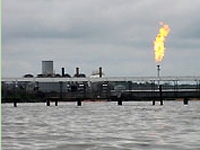 Abuja/Nairobi, 5 November 2007 - A comprehensive environmental assessment of oil-impacted sites in the Ogoni region of Nigeria's Niger Delta is to be launched by the United Nations Environment Programme (UNEP), in association with the United Nations Development Programme (UNDP).
The move follows a request by the Federal Republic of Nigeria and forms part of the broader government-led peace and reconciliation process in Ogoniland. Local communities and partners will be supporting UNEP to undertake the evaluation.
Today senior officials from UNEP will be in Abuja to seal the final details of the assessment, which is expected to be completed by the end of 2008.
The UNEP team in Abuja will be holding talks with the Minister of Environment of Nigeria; the National Oil Spill Detection and Response Agency; the Shell Petroleum Development Company of Nigeria (SPDC), and officials of other UN agencies in the country.
Achim Steiner, UN Under-Secretary General and UNEP Executive Director, said: "The assessment will seek to identify, evaluate and minimize the immediate and long-term human, social, health and economic impacts of oil contamination in Ogoniland, as well as those related to environmentally and economically important ecosystems".
"We will be deploying several teams of international and local experts in order to conduct field-based assessments in over 300 sites to identify the impacts of oil on environmental systems such as land, water, agriculture, fisheries and air - as well as the direct and indirect effects on biodiversity and human health," he added.
On the basis of the assessment findings, UNEP will also make recommendations for the appropriate remediation activities needed to rehabilitate the land to a condition that is environmentally acceptable, according to international standards.
The project will be undertaken in a manner that maximizes benefits to the community - through employment, capacity-building activities, information and consultation.
The UNEP project in Ogoniland will be run from a main field office in Port Harcourt, Rivers State, but smaller Community Liaison offices will be opened in the communities of Eleme, Tai, Khana and Gokana.
The Post-Conflict & Disaster Management Branch (PCDMB) has worked in post-conflict settings such as Afghanistan, Sudan, Iraq and Lebanon, as well as in countries affected by major disasters such as Pakistan, Indonesia, Sri Lanka and Maldives. Because conflicts and disasters are so closely intertwined with the environment, proper environmental management and governance is essential for long-term peace, stability and security in any conflict- or disaster-prone country.