Maine officials OK 57 megawatt wind farm on Stetson Mountain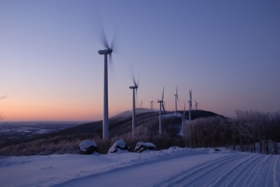 Boston, MA — A 57 megawatt wind generating farm planned for Stetson Mountain received a critical OK today from Maine officials. UPC Wind, a wind power company, received approval from the Maine Land Use Regulation Commission on a rezoning petition and preliminary plan for the company's proposed (MW) Stetson Wind Project in Washington County, Maine. The project is expected to boost the local economy and produce clean energy for Maine. Officials voted unanimously in favor of rezoning the project's site.
"The Maine Land Use Regulation Commission's approval of our rezoning petition underscores the potential revenue and jobs for the region throughout the development, construction and operation of the Stetson Wind Project," said Paul Gaynor, President and CEO of UPC Wind. "We greatly appreciate the immense support shown for this project, which stands to become the region's biggest source of clean wind energy. Combined with our facility in Mars Hill, Stetson will generate enough clean electricity to power about 45,000 New England homes."
During the permitting process, the project received support from numerous arenas including environmental groups such as Maine Audubon, Natural Resource Council, Appalachian Mountain Club and Conservation Law Foundation. The project has also garnered regional endorsements from local officials and groups including the Washington County Commissioners and the Sunrise County Economic Council.
"We appreciate LURC's thoughtful review of this project, and greatly appreciate the support of many leading organizations, state officials and members of the community," said Matt Kearns, UPC Wind's Project Manager. "Following this week's approval of our rezoning petition, we will move forward with submitting our final plans to LURC for review before beginning construction. In addition, we will focus on completing a number of pre-construction activities including the transportation and staging of materials."
The Stetson Mountain location features a number of positive factors including 1) the ridge serves as an excellent source of wind; 2) the site has no residential property currently closer than 2,500 feet; 3) the project will have minimal environmental impact as the ridge, which had historically been used for logging, already has existing roads in place for use during construction; and 4) roughly one-third of the needed transmission lines will be in the same right-of-way (ROW) as existing electric lines.
Upon completion, the Stetson Wind Project will:
o Consist of the construction and operation of 38 state-of-the-art GE 1.5 megawatt (MW) wind turbines. With about 5,000 in service in the U.S. today, the GE 1.5 turbine is considered the most reliable in the wind industry.
o Employ hundreds of people during the design, engineering and construction of the facility, with the potential for local employment on road, foundation and electrical line construction.
o Produce approximately 150 million kilowatt-hours (MWh) of clean electricity annually – enough to power about 27,500 homes per year. Generating this amount of electricity using oil and gas would emit 107,500 metric tons of pollutants; the Stetson Wind Project will emit no pollutants.
In addition to increasing domestic energy production and increasing energy security, wind power is considered cost competitive with conventional sources of electricity, such as oil or gas. Unlike traditional polluting sources of energy, wind has no fuel cost, therefore serving as a natural hedge against volatile fuel prices, which in most markets in the US constitutes a significant portion of monthly electricity bills. Wind power does not emit greenhouse gases or other damaging pollutants.
About UPC Wind
UPC Wind is based in Newton, Massachusetts, with offices in Maine, Vermont, New York, Pennsylvania, California, Oregon and Hawaii. UPC Wind is an American-owned company, with a proven track record of developing, owning and operating well-sited, community-friendly wind farms that increase energy independence. For more information on UPC Wind, please visit www.upcwind.com. Additional information on the proposed Stetson Wind Project can be found at www.stetsonwind.com.