California sues EPA over car emissions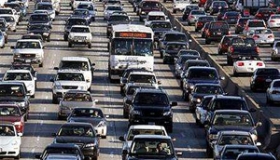 SAN FRANCISCO (Reuters) - California sued the Environmental Protection Agency on Thursday, demanding a quick federal decision that would allow the nation's most populous state to limit greenhouse gas emissions from vehicles.
"California is ready to implement the nation's cleanest standards for vehicle emissions, but we cannot do that until the federal government grants a waiver allowing us to enforce those standards," Gov. Arnold Schwarzenegger said.
The long-threatened legal action follows a 2005 California law requiring new vehicles to meet tighter standards for emissions, starting with 2009 models introduced next year.
California needs a waiver from the federal government because it is seeking to impose stricter standards than U.S. law. The legal filing asks the court to force a EPA decision on the matter.
If the EPA denies the waiver, "we sue again, and sue again, and sue again, until we get it," Schwarzenegger told reporters.
The federal agency "has unreasonably delayed action on the requested waiver," according to the lawsuit filed in the U.S. District Court for the District of Columbia.
"Automotive emissions of greenhouse gases are increasing more rapidly than any other source," the lawsuit said. "The longer the delay in reducing these emissions, the more costly and harmful will be the impact on California."
EPA spokeswoman Jennifer Wood said her agency plans to make a decision by the end of December. "We're less than two months away and clearly California is more interested in getting a good headline than in giving us the time to make a good decision," she said.
Sixteen other states have either adopted or are considering similar emissions rules. Schwarzenegger, a Republican, said 14 other states would join the California lawsuit later in the day.
U.S. automakers are fighting California's environmental plans in the courts. In a separate case, a U.S. federal judge threw out a California lawsuit in September that sought to hold vehicle manufacturers responsible for damages caused by climate-changing greenhouse gases.
"The administration is just trying to run out the clock on global warming, blocking any action in the president's remaining months in office," Philip Clapp, president of the National Environmental Trust, said in a statement. "California was driven to this lawsuit by two years of dead silence from EPA."
Last year, California passed a law calling for the most far-reaching greenhouse gas emissions reductions in the United States, saying it would cut global warming gases to 1990 levels by 2020 -- or by 25 percent from current levels.
(Additional reporting by Deborah Zabarenko; Editing by Vicki Allen)
© Reuters2007All rights reserved