Hillary Clinton Praises College of The Atlantic's Net-Zero Commitment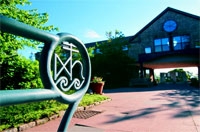 BAR HARBOR, ME – College of the Atlantic's commitment to reduce energy use on campus and become the nation's first net-zero campus for carbon emissions came to the attention of Sen. Hillary Clinton Thursday. In a press release issued by the senator as part of her primary campaign, Clinton called upon colleges and K-12 schools to reduce emissions on campus and in communities.
"In 2006, the College of the Atlantic in Maine became the first to vow to become a zero-emissions school. Since then 270 more have taken the same pledge," said Sen. Clinton. Continues the release, "Hillary wants to harness the excitement, energy, and activism of young people by calling on them to lead the way for our larger communities."
Sen. Clinton's statement came one day after College of the Atlantic became one of 11 pilot colleges and universities nationwide to work with the Clinton Climate Initiative to reduce greenhouse gasses. This initiative offers financial incentives to reduce emissions in older buildings. It was established by the senator's husband, former President Bill Clinton.
The colleges and universities joining this partnership are among the more than 400 signatories of the American College and University Presidents Climate Commitment, or ACUPCC, a serious commitment by colleges and universities to develop a comprehensive plan to reduce emissions that cause global warming. College of the Atlantic's President David Hales was a founding member of this organization, and was invited to participate in the conference with Clinton.
Located between the Atlantic Ocean and Acadia National Park, College of the Atlantic, or COA, was founded in 1969 on the premise that education should go beyond understanding the world as it is, to enable students to actively participate in shaping its future. A leader in environmental stewardship, COA has pioneered a distinctive interdisciplinary approach to education – human ecology – that develops the kinds of creative thinkers and doers who are able to lead all sectors of society to promote sustainable ecosystems while meeting compelling and growing human needs.
Sustainability has been a hallmark for the college since its first year, in 1972, when COA students were instrumental in getting Maine's groundbreaking bottle bill into the legislature. Since then, the college has consistently incorporated sustainability into all its practices, from architecture to food systems to holding the first-known zero-waste graduation in 2005. In 2006, COA declared that it will offset all greenhouse gas-causing emissions that the school cannot avoid or reduce.