CREDO: Doing well by doing good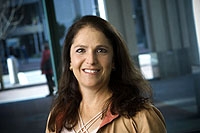 The author of this commentary is Laura Scher, the CEO of CREDO/Working Assets, a mobile phone company with a committment to accelerating progressive change (http://www.workingassets.com). Scher, a graduate of Harvard Business School, looks back at 20 years in the business of social change, and to the future as the greenest mobile phone company in America.
Last year, Al Gore's documentary helped raise the issue of global warming from low roar to rallying cry. But here at CREDO (formerly Working Assets) the "inconvenient truth" of global pollution wasn't exactly news. In fact, we founded our business on a mission of making the world more just, humane and environmentally sustainable.
Before it was cool to take action to cool the planet, we were doing just that.
Back in 1985, a CEO who brought her beliefs to work was pretty much unheard of. Graduating from Harvard Business School, I knew I wasn't going to be a corporate drone. I had a system of beliefs that started when I was a kid. I remember helping my parents bring stacks of newspapers to the recycling plant in New Jersey. Even back then, I saw the impact of what I could personally do to clean up my community. And I wanted to do more.
It was with this belief that I co-founded Working Assets in the not-very-idealistic 80s. But that was exactly what like-minded people were looking for — a business that could do well by doing good. We weren't the Exxon Valdez running aground in Alaska and expecting others to clean up our mess. We were a newer, cleaner, better way to make a difference. And by choosing our mobile, long distance and credit card products, our customers could, too.
Because by using us, our customers are automatically generating donations to progressive organizations like Greenpeace, ACLU and Rainforest Action Network – nearly $56 million in donations so far. During that era of corporate greed, trust me when I tell you this was a very welcome change for consumers: Money generated from our subscribers that was not going into AT&T's pockets but into the well-deserving hands of hard-working nonprofits.
Funny thing happened as we grew more successful. The mega corporations took note. Being a green company also meant you could make more green. What we'd been doing for two decades was getting lost in major corporations' rush to show their new greenish colors. So we made a decision. We changed our name.
With Credo Mobile (http://www.credomobile.com) we have put our beliefs in our name. And we're as committed as ever to progressive change, but this time it's right from your cellphone. We offer a dynamic text message program where we turn our cellphones into tools for social activism. At the push of a button we can increase voter turnout in crucial elections by texting voting reminders on election day.
We can generate more phone calls on urgent political votes, as we are doing with a pending energy bill: We teamed with Bonnie Raitt and friends to gather signatures for a petition on a little known clause in a major bill in Congress that would hand over taxpayer funds for nuclear power-plant construction. Anyone who joins our Mobile Action Network will receive a text message when a vote is imminent and a special message from Bonnie Raitt. (For more information, go to http://act.credomobile.com/campaign/stop_nuke_bailout.) And no, you will not find GE, Verizon or Monsanto doing anything like this.
Our business goal is to build our customer base with minimal impact to the planet: that's why we've partnered with CollectiveGood to collect unused phones -- nearly 14,000 since 2005; it's why we pay carbon offsets for every new phone and why we've planted over 2.5 million trees to cover our paper use over the years.
I hope the new name brings us new members who want to help reverse the effects of global warming and stop the war in the Middle East as much as we do. How will we do it? Through the tried and true methods we've always employed: raising money and raising our voices.
While the technology changes and we continue to innovate for activism, our values are the same. By choosing issues that affect how we live, we are showing how a mobile phone company can do more than make profits, but profit the world and continue to be more just, humane and environmentally sustainable, as we believed 20 years ago. It's important to stay true to your beliefs. That's what I've done, and that's what we as a company will continue to do.