GM sees "showdown" with Toyota on electric car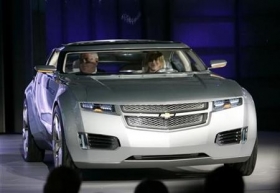 By Kevin Krolicki
LOS ANGELES (Reuters) - General Motors Corp is on track to road test its Chevrolet Volt plug-in hybrid early next year and to produce the rechargeable car by late 2010, setting the stage for a "showdown" with Toyota Motor Corp., a senior GM executive on Wednesday.
As the race to bring a mass-market, rechargeable electric vehicle to market heats up, Bob Lutz, GM's head of global product development, said the largest U.S. automaker remained on track to launch the Chevy Volt in November 2010.
"A lot of our team members working on the Volt keep telling us how aggressive that is," Lutz said at the Los Angeles auto show. "And it is aggressive, but we're not going to let up on it."
"The target is by the end of the first quarter (of 2008) we will have street-drivable prototypes on which we confidently expect to be able to demonstrate the electric drive," Lutz said.
GM is the only automaker to have provided a timeline on the production of a plug-in hybrid vehicle, even though other companies, such as Ford Motor Co and Toyota Motor Corp.
are working on similar technology.
Toyota executives have said they do not expect lithium-ion batteries to be ready for use in the company's market-leading Prius hybrid by GM's 2010 timetable.
Lutz said that difference in viewpoint set the stage for a "showdown" between GM and Toyota at a time when the Japanese automaker is on the verge of overtaking GM for the industry's No. 1 spot in terms of global sales.
"We've got sort of this showdown at the OK Corral coming," he told reporters. "Our large Asian competitor ... said the Chevy Volt is a scam. It's a PR exercise. The lithium-ion batteries aren't ready. They won't be able to do it."
He added: "About the time the Easter Bunny brings his or her eggs, we will find out who's right and whose credibility took a serious dent."
Unlike earlier gasoline-electric hybrids, which run on a parallel system that twins battery power and a combustion engine, plug-in cars are designed for short trips powered entirely by the electric motor. The car uses a battery that can be charged through an electric socket at home.
GM is designing the highly anticipated Volt to run 40 miles on battery power alone, reducing or even eliminating the need for drivers to fuel up an on-board gasoline-powered engine provided as a backup power source.
Environmental advocates have been pressing automakers to roll out plug-in vehicles that could be recharged at standard electric outlets as a way to reduce oil consumption and greenhouse-gas emissions.
Automakers have said lithium-ion battery technology remains the biggest challenge in producing a plug-in vehicle as they try to lower the cost of the batteries and increase their power and storage capacity.
The current generation of lithium-ion batteries, used in devices such as laptop computers and electronic devices, also has a tendency to overheat.
The Volt would be outfitted with new lithium-ion battery packs, which hold a charge longer than the nickel metal hydride batteries now used widely in automobiles.
Lutz said the automaker was testing the lithium-ion battery technology developed by its two suppliers -- A123 Systems and Compact Power Inc, a subsidiary of LG Chem.
(Reporting by Kevin Krolicki and Jui Chakravorty; Editing by Gary Hill)