China Defends Mega Dam, Guards Against Disaster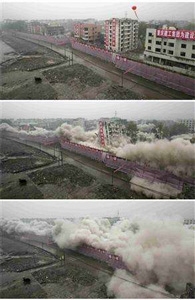 By Chris Buckley
BEIJING (Reuters) - China defended the environmental effects of its huge Three Gorges Dam on Thursday, with a senior official saying pollution was under control and threats from landslides under close guard.
The dam on the Yangtze River lies in the central province of Hubei and holds a 660-km (410-mile) reservoir. In September, an official warned of environmental calamity if landslides, siltage and pollution were not contained.
But in an implicit denial of that warning, the office director of the Three Gorges Project Committee, Wang Xiaofeng, said problems were manageable and within expectations.
"I can say with all responsibility that the environmental impact of the Three Gorges Project has not exceeded the scope of what was predicted in the original viability report," he told the official Xinhua news agency.
Yet Xinhua also paraphrased Wang as saying that "the ecological and environmental security of the dam area merits a high degree of attention."
Wang's defense comes in the wake of the official's warning and signs of geological strain around the dam. Last week, Vice Premier Zeng Peiyan told dam officials to "double efforts" against environmental and geological threats, Xinhua said.
The Three Gorges Dam is the world's biggest, an engineering feat that seeks to tame the world's third longest river while displacing 1.4 million people, many of them poor farmers from Hubei and neighboring Chongqing.
"LAST BLOCKS" GO
Xinhua reported that the last blocks of apartments on land to be engulfed by the reservoir had been razed on Thursday, with one row going up in smoke at the push of a button.
Kaixian was the last of Chongqing's eight counties to finish relocation work for the project, the report said.
But the "last blocks" appeared to be a symbolic watershed, as other towns along the reservoir's length still have buildings waiting for demolition -- and residents waiting to be moved.
Since the dam was finished in 2003, the reservoir has been filled with water in stages. If all goes to plan, it will reach its maximum of 175 meters above sea level by late 2008, providing what Wang called an "irreplaceable" protection from devastating floods downstream.
Critics have long said the dam was a folly that would trap silt and pollution and dangerously destabilize the brittle hills on its shores and tributaries.
During a recent visit to the dam area by Reuters, residents pointed to erosion, landslides and deformed terrain they said had seriously worsened since last year.
Wang said pollution from algae blooms was localized and temporary, and "the frequency of geological disasters has been effectively controlled."
Since the dam's water level rose to 156 meters last year, there had been no "major geological disasters" creating large loss of life, Wang said.
In the summer of 2007, landslides across the dam area killed at least 13 people, according to local news reports and the dam environmental agency.
On Thursday, an official in Chongqing -- a sprawling municipality of 28 million that covers many rural areas affected by the dam -- denied a previous report that 4 million of its residents would have to move due to the dam's environmental strains.
Chongqing spokesman Wen Tianping said the ambitious plan was a development program "to narrow the urban-rural wealth gap," and not an environmental retreat. The policy would not involve "forced relocation," Xinhua said.
(Reporting by Chris Buckley; editing by Roger Crabb)