Wal-Mart Outlines Environmental Efforts Progress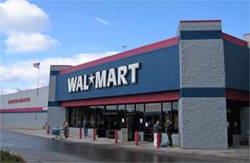 NEW YORK (Reuters) - Wal-Mart Stores Inc released a report on Thursday outlining the progress it is making in meeting its so-called "sustainability" goals, such as cutting waste and reducing energy at the discount retailer's stores.
Wal-Mart, which began the environmental push in 2005, has set a goal of one day using only renewable energy and creating zero waste.
In that effort, the company has constructed experimental stores to test different ways to conserve water or electricity while also cutting waste.
Earlier this year, it unveiled a new "Sustainability 360" environmental plan, challenging employees, suppliers and customers to remove nonrenewable energy from their lives.
Because of its size as the world's largest retailer, Wal-Mart is considered one of few able to leverage its corporate muscle to make direct changes to global energy consumption.
While the efforts may help the environment, they are also seen as a way for Wal-Mart to cut costs.
"We have found that there is no conflict between our business model of everyday low costs and everyday low prices and being a more sustainable business," Chief Executive Lee Scott said in the report.
"...Many of our environmental sustainability efforts, for example, mean cost savings for us, our suppliers and our customers, so that in both good times and bad times, they will remain part of who we are."
Below are some excerpts from the 60-page report, highlighting the retailer's efforts so far and the challenges it faces going forward:
-- On working with its suppliers to make sure they meet Wal-Mart's standards: "Perhaps the greatest opportunity we have to ensure standards are met is to reduce the total amount of suppliers and factories from which we source, which will allow us to gain a greater adherence to our ethical sourcing standards. This will also allow longer-term relationships, deeper collaboration and capacity building."
-- On its health care coverage: "The fact remains that 9.6 percent of (employees) say they do not have any coverage at all. That's too many. So perhaps one of our greatest challenges is to better understand why this 9.6 percent decline coverage and what we can do to encourage them to choose it."
-- On diversity: "We are working with our largest suppliers to structure a proactive outsourcing initiative that will identify new and grow existing minority and women-owned businesses."
-- On reducing its carbon footprint: "In working to reduce our carbon footprint, one of our biggest challenges remains our growth. As we continue to grow, so does our carbon footprint -- even if it grows at a much slower rate. However, we see our expansion as an opportunity to have a positive effect on absolute carbon because being a growth company enables us to explore and invest in new technologies that may lead to carbon reduction."
-- On its fleet of trucks: "In 2005, we set a goal to identify a 25 percent efficiency gain in Wal-Mart's private fleet in 2008 and to double the fleet efficiency over the next 10 years. Fuel efficiency has been improved by 15 percent in the fleet since 2005. An additional 10-13 percent has been verified in testing and will be applied to new tractors coming in to the fleet as older equipment is retired over the next several years."
-- On measuring its waste: "In the near term, our goal is to reduce solid waste from our U.S. stores and Sam's Clubs (warehouse clubs) by 25 percent by weight by October 2008. To get there, it's critical that we engage our 60,000-plus suppliers in the effort because much of our waste comes from shipping packaging materials sent to our stores and distribution centers...
"We know that one of our greatest challenges is tracking our waste ... We believe we have made progress towards our zero waste goal in the United States, but the reality is we don't have an accurate measurement of how much waste we have reduced."
-- On jewelry: "We are identifying a diamond mine, a gold mine, a manufacturer and a third-party verification company to produce new products in environmentally sustainable and socially conscious ways, and to test more transparent supply chain practices. In addition, we have laid the groundwork to test gold recycling, and we plan to initiate that project before the year's end."
-- On China: "Today, we estimate that there are thousands of export factories in China from which we directly source goods. This does not include the large number of factories from which we indirectly source goods. Moving forward, we must continue to look for innovative ways to engage all of our suppliers in the path toward sustainable development in China."
(Reporting by Nicole Maestri, editing by Gerald E. McCormick)