U.N. Climate Talks Make Slow Progress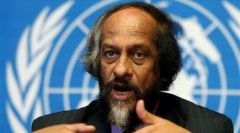 By Joe Ortiz
VALENCIA, Spain (Reuters) - Delegates at crucial U.N. talks on the causes and effects of global climate change are making slow progress with an agreement still some way off, sources close to the discussions said on Thursday.
"The same governments which are usually hostile to binding emissions reductions, and especially the Kyoto Protocol, are also those who are blocking progress on agreeing to sound science as the basis for future action," said Stephan Singer, a climate expert at the WWF conservation group.
"An agreement might have to wait until Saturday," he said. The United States is the main industrial nation outside the Kyoto Protocol.
The sources said the meeting was moving painfully slowly towards agreeing a text with delegates taking more than an hour to agree on some sentences.
"I think we may have to work through the night," said one source.
The sessions had been due to close at 11 p.m. (6 p.m. EDT) and delegates will lose five minutes at 8 p.m. when the conference centre they are in takes part in a symbolic power switch-off across Spain to draw attention to climate change.
Scientists and government officials from the 130-state Intergovernmental Panel on Climate Change (IPCC) are meeting this week to boil down the findings of three reports they have issued this year that blame human activities for climate change.
It had been expected that an agreement on a summary of about 20 pages could be reached by Friday, leaving the panel to spend some time discussing its future activities.
U.S. Senator John Kerry, a leading advocate for action on emissions and climate change, said the outcome of the Valencia meeting would the "blue-print" for the December meeting in Bali, Indonesia, of world environment ministers.
"The policy response needs to be based on what the science tells us," Kerry, a Democrat, told journalists on a conference call from Washington. He added that he hoped the outcome in Valencia would not be hampered by compromise.
"I have heard some rumors that there are U.S. efforts to back it (the synthesis report) off in some places."
DRAFT BLAMES HUMAN ACTIVITIES FOR RISING TEMPERATURES
Running to more than 3,000 pages, the reports on the causes, consequences and possible remedies for climate change are being be turned into a summary for policy-makers to make progress on the issue at the Bali meeting which is expected to lay down the climate change agenda after Kyoto's first period ends in 2012.
A draft circulated ahead of the conference clearly blames human activities for rising temperatures. It says deep cuts in greenhouse gas emissions, mainly from burning fossil fuels, are needed to avert increasing numbers of more heat waves, melting glaciers and rising seas.
In Bali, ministers will try to approve a two-year timetable to work out a successor to Kyoto.
The treaty obliges 36 industrial nations to cut emissions by at least 5 percent below 1990 levels by 2008-12. A new deal would aim to involve outsiders led by the United States and China, the world's top two emitters which have no Kyoto goals.
The IPCC has drawn much more attention since it became the joint winner of the 2007 Nobel Peace Prize along with former U.S. Vice President Al Gore.
"The IPCC has become much more than a scientific advisory body. The IPCC is getting much more attention because it won the Nobel Peace Prize," said one source close to the talks. "So, governments are aware that what they agree here will be used in Bali as a spur for more action."
The source said progress at the talks was slow with countries such as the United States, Russia and Saudi Arabia holding them up the most.
(Reporting by Joe Ortiz and Alister Doyle in Oslo)