OPEC willing to help fund climate change battle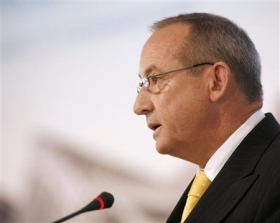 By Andrew Hammond and Alex Lawler
RIYADH (Reuters) - OPEC is concerned about climate change and is willing to help develop ways to cut emissions such as carbon capture and storage (CCS), officials said on Thursday at a summit of the exporter group.
The group's Secretary General, Abdullah al-Badri, said carbon capture could be a solution and that OPEC would be willing to play its part to develop the technology alongside developed countries.
"This needs a lot of money, this needs a lot of research," Badri told reporters ahead of an OPEC heads of state summit on November 17-18.
"Developed countries have the financial backup, they have the technological backup to take the lead. Also, we will try to contribute."
One idea floated in forums ahead of the summit was for OPEC, industrial nations and developing countries to each stump up $1 billion to research CCS, a leading U.N. climate change official said earlier on Thursday.
"I'd be interested to see when the OPEC heads of state meet over the weekend, whether that's an idea that they pick up on," said Yvo de Boer, executive secretary of the United Nations Framework Convention on Climate Change.
"If oil producing countries put the first dollar bill on the table then, to my mind, that makes it impossible for rich oil consuming countries to then not put another one next to it."
The Organization of the Petroleum Exporting Countries includes many of the world's top oil producers, whose economies are booming as prices hit record highs.
NOT A WAR ON OIL
Harmful emissions could be reduced if the carbon can be captured and stored, for example in depleted oilfields.
A U.N. study said CCS may be one of the best ways to cut emissions of man-made heat-trapping gasses blamed for global warming, but development has been slowed by high costs and legal and safety risks.
Environmentalists and other critics have said development has lacked urgency so far.
De Boer urged OPEC to take climate change seriously at its summit, ahead of a key meeting to tackle global warming in Bali next month.
"I encourage OPEC to contribute to climate change abatement and to play an important role in history to drive forward sound solutions to a global problem," he said.
"International action on climate change is a war against emissions, not a war against oil."
Adnan Shihab Eldin, a former head of research at OPEC's headquarters in Vienna, said CCS technology would be a winner for OPEC, the source of more than a third of the world's oil.
"OPEC stands to gain from a more proactive role to encourage accelerated development of CCS," he told a forum.
De Boer said December's U.N. climate change conference in Bali, where negotiations on a new international climate change regime are to be launched, will be a make-or-break point for international efforts to stop the planet heating up.
"If things go wrong in Bali then we really are in deep trouble. If you get a wake-up call from science now and don't act on it, then that means you are in trouble."
"There are strong signals that countries are willing to advance negotiations in Bali and come to a negotiating agenda."
(Additional reporting by Alister Doyle, editing by Anthony Barker)