Power companies focus on clean deals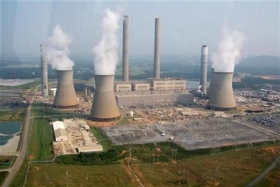 By Jonathan Keehner
NEW YORK (Reuters) - Newly environment-friendly regulators and lawmakers have acquisitive power companies wary of potential policy changes on greenhouse gas emissions.
As they weigh deals, companies are adjusting their criteria for the impact of greenhouse gases, said David Nastro, managing director and co-head of global power and utilities at Morgan Stanley.
Among their considerations are proposals being reviewed by the U.S. Senate that address climate change through measures including emissions reductions and a cap-and-trade policy allowing emissions credit trading. At the same time, proposed power plants have met with increased regulatory scrutiny.
Last month Kansas officials denied permits for proposed coal-fired generators by the Sunflower Electric Power Corp., citing the potential harm of greenhouse gases like carbon dioxide.
"That was the first plant in the country canceled because of carbon concerns and it really shook the industry," said William DeGrandis, a partner at law firm Paul Hastings. "This wasn't California or Florida, this was Kansas."
"The question becomes to what extent will similar plants being planned be impacted by similar opposition?" DeGrandis added.
Such questions are factoring into energy and utility dealdeal makingmaking, which has seen over 900 transactions so far this year, totaling nearly $260 billion -- an increase of about 30 percent over last year, according to data provider Dealogic.
BIGGER IS BETTER
Uncertainty over clean energy policies may drive deals that result in fuel or regulatory diversification for power companies. By diversifying, companies could reduce the influence that any one local regulatory body or policy could have on a company's total combined operations.
Houston-based Dynegy Inc and Florida's FPL Group Inc have recently targeted acquisitions that would provide fuel or geographic variety.
In addition to diversification, deals that bulk up a company's balance sheet may also be attractive due to the increased costs associated with cleaner energy.
"The capital intensive nature of tomorrow's generation investment is so great that it will drive some mergers," said Stuart Caplan, a partner at law firm White & Case. "The bottom line is that one driver for mergers is bigger is better."
Potential clean energy costs may also make power markets less appealing to players like private equity firms that may not have the political clout with regulators as long-time industry players.
Last year, Dynegy agreed to acquire the power plants of private equity fund LS Power Group for about $2 billion in cash and stock, nearly doubling its generating capacity and expanding its geographic reach.
GREEN SEAT AT THE TABLE
As management teams assess their ability to do transactions, they are also an increasingly focused on the response of environmental organizations.
The buyout of Texas power company TXU Corp, acquired in October by a group including private equity firms Kohlberg Kravis Roberts & Co and Texas Pacific Group for about $32 billion, had the blessing of environmental groups Environmental Defense and Natural Resources Defense Council.
TXU and its new buyers made several pledges to improve the company's environmental policies, such as cutting back on the number of coal-fired power plants it would seek to build. Until that acquisition, environmentalists had not been seen as having a seat at the negotiating table in power company deals.
"Going forward we expect this interaction to be an integral part of any strategic combination," said Morgan Stanley's Nastro.
(Reporting by Jonathan Keehner; Editing by Tim Dobbyn)