Quake hits Peru-Ecuador border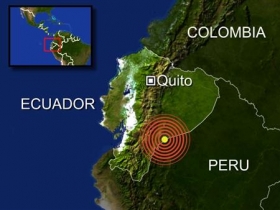 QUITO (Reuters) - A 6.7-magnitude earthquake struck along the border between Peru and Ecuador on Thursday night, but there were no immediate reports of injuries or damage.
The U.S. Geological Survey said the quake's epicenter was 74 miles deep and 150 miles southeast of the Ecuador capital, Quito, and struck about 10:13 p.m. local time (10:13 EST on Friday).
Residents in Quito and the country's coastal city of Guayaquil felt the quake, according to a Reuters witness and local media reports. A Red Cross spokesman said there were no immediate signs of injuries.
The temblor was not felt at the only big Peruvian mine near the quake zone, the Yanacocha gold deposit, said Guillermo Nina, a union official.
No important oil facilities are located in southern Ecuador, South America's fifth-largest oil producer.
Earthquakes frequently strike the Andean region, but Peruvian seismologist Hernan Tavara said the quake was not related to two other recent powerful quakes.
In August, an 8-magnitude quake south of Lima, Peru's capital, killed more than 500 people.
A 7.7-magnitude quake in Chile on Wednesday killed two people, injured more than 100 others and temporarily cut power to copper mines before work returned to normal.
(Additional reporting by Marco Aquino and Terry Wade in Lima and Alonso Soto in Ecuador; Editing by Peter Cooney)