FedEx cuts profit forecast on fuel costs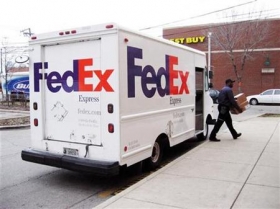 BOSTON (Reuters) - Package delivery company FedEx Corp <FDX.N> slashed its quarterly earnings forecast on Friday, blaming surging fuel prices and a drop in demand caused by the weak economy, sending its shares down 3 percent.
Quarterly fuel costs for FedEx's fleets of purple-and-orange trucks and planes rose by more than 7 percent, or $100 million, since it set financial targets in March, moving so quickly that the company could not raise fuel surcharges fast enough to keep pace.
FedEx customers are sending fewer express packages, and delivery services for packages and items known as less-than-truckload were also down, the company said.
The comments reflect widespread difficulty in the U.S. economy, which is mired in slow or negative growth, low consumer confidence, and rising food and energy prices.
FedEx said it now expects to report a profit of $1.45 to $1.50 per share for its fourth fiscal quarter ending May 31, lower than its prior forecast of $1.60 to $1.80 per share.
Wall Street, on average, had expected $1.69, according to Reuters Estimates.
"While we have dynamic fuel surcharges in place, they cannot keep pace in the short-term with rapidly rising fuel prices," Chief Financial Officer Alan Graf said in a statement.
"This revised outlook assumes no additional increases to the current fuel price environment and no further weakening of the company."
FedEx shares, which had closed at $90.37 on the New York Stock Exchange, dropped to $87.35 in after-hours trading.
(Reporting by Scott Malone in Boston and Peter Henderson in Los Angeles, Editing by Richard Chang, Toni Reinhold)