U.N. climate change talks close to clinching deal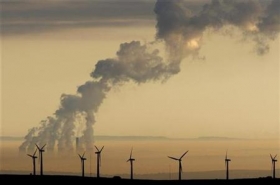 By Joe Ortiz
VALENCIA, Spain (Reuters) - Delegates at U.N. climate change talks have reached provisional agreement on a document that could shape environmental policies for decades, sources close to the talks said on Friday.
The document, which gives a summary of the latest scientific knowledge on the causes and effects of climate change, will be put before environment ministers at a meeting next month in Bali, Indonesia, which is likely to agree a two-year strategy to negotiate a successor to the Kyoto Protocol.
But final agreement on the synthesis report, as it is known, is dependent on approval of a much longer underlying scientific report which is still being considered.
The summary is set to say human activity is causing rising temperatures and that deep cuts in greenhouse gas emissions, mainly from burning fossil fuels, are needed to avert ever more heat waves, melting glaciers and rising sea levels.
"The synthesis report has been provisionally agreed but the delegates are still going through the longer report and both of them have to be agreed," said Hans Verolme, Director of the WWF conservation group's Climate Change Programme.
"Progress is a bit slow and I'm preparing for a long evening," he said.
Delegates said it is unlikely the summary report will suffer any changes at this stage but a change to the underlying report could mean delegates have to revisit the summary again.
"... After this, no politician will be able to argue that they don't know what is happening," Verolme said earlier after one negotiating session that lasted all night.
"This meeting is a landmark that will influence policymakers for decades," he told reporters at a news briefing.
"Very strong language from the IPCC will require governments to take strong action," Verolme said. "The ball is in the politicians' court."
3,000 PAGES
Scientists and government officials from the 130-state Intergovernmental Panel on Climate Change (IPCC) have been meeting all week in Valencia to boil down the findings of three reports they have issued this year about the risks of warming.
The final report will be presented on Saturday by United Nations Secretary-General Ban Ki-moon.
Running to over 3,000 pages, the reports on the causes, consequences and possible remedies for climate change are being turned into a summary for policy-makers to make progress on the issue at the Bali meeting which is expected to lay down the climate change agenda after Kyoto's first period ends in 2012.
Delegates from the environmental movement appeared happy the synthesis had not watered down the message from the scientific advisors and said fears ahead of the conference had not been realized.
"I think the report is somewhat stronger than many people feared," one delegate said, adding it includes five strong reasons for concern -- including threats to unique ecosystems, projected extinctions, extreme weather events.
"It also points to areas most at risk such as Asian megadeltas, poor countries, Arctic ice sheets and says that sea level rise is inevitable."
The Kyoto treaty obliges 36 industrial nations to cut emissions by at least 5 percent below 1990 levels by 2008-12. A new deal would aim to involve outsiders led by the U.S. and China, the world's top two emitters which have no Kyoto goals.
The IPCC has drawn much more attention since it became the joint winner of the 2007 Nobel Peace Prize along with former U.S. Vice President Al Gore and this has meant that governments are watching and shaping its conclusions with even more care.
With the summary agreed, delegates will turn to other issues, including what to consider in a next report likely around 2013. "That would be the start of a discussion that will last into next year," a delegate said.
(Additional reporting by Alister Doyle in Oslo; Editing by Matthew Jones)