Thousands march against race crimes in Washington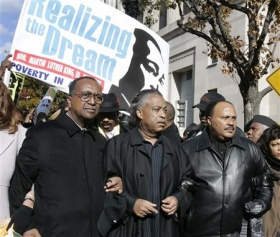 By Andy Sullivan
WASHINGTON (Reuters) - Thousands of black Americans marched around the U.S. Justice Department on Friday to protest what they described as heavy-handed law enforcement and a reluctance to prosecute racially motivated crimes.
Chants of "no justice, no peace" and "fired up, can't take it no more" echoed off the monumental government buildings along Pennsylvania Avenue as an overwhelmingly black crowd of about 10,000 circled the department's Washington headquarters.
Civil rights leaders organized the march after a spate of incidents in which blacks have been harassed with nooses, a symbol of racist lynchings.
The frustration of African Americans has also been sparked by charges against six black teenagers in the small town of Jena, Louisiana stemming from a fight after white students hung nooses from a tree at the school.
"When you hang up a noose, that's no joke to us. Our granddaddies swung on those nooses," Rev. Al Sharpton, a 2004 Democratic presidential candidate, told the crowd.
The rally in Washington followed a September protest in Jena, where tens of thousands called on the local prosecutor to drop attempted-murder charges against five of the six students.
Many at Friday's rally said they were frustrated with a criminal justice system that locks up blacks at much higher rates than whites. Roughly one in three black men will spend time in prison during their lifetimes, compared to one in 17 white men, according to Justice Department statistics.
Crystal Perry, 42, who traveled to the rally with her church from Stamford, Connecticut, said she had seen black students at the high school where she teaches English receive much harsher treatment than white students at the hands of the legal system.
'WHITE LAWS ... BLACK LAWS'
Others described humiliating treatment by police, despite their professional appearance and demeanor.
"If you got shiny rims on your car, the police will automatically pull you over," said Kevin Borden, 44, a social worker from St. Louis. "It even happened to me on the way to church."
Borden said the white people he knows, by contrast, don't see the justice system as unfair.
Added his friend Reggie Jackson, 39: "You got white laws, and you got black laws. That's not right, and there's only so much you can keep forgetting."
Many said the U.S. government needs to take a greater role in race-related cases, much as it did when it forced southern states to end segregation during the 1960s.
"We want them to stand up for us. That's what we put them in office for," said Trachelle Young, 37, an attorney for the city of Flint, Michigan.
"They don't want to address those issues."
The Justice Department said it is aggressively investigating the recent string of noose hangings.
Department officials say they won the highest number of civil-rights convictions ever in the fiscal year ended in October, though hate-crime laws are often tricky to prosecute and investigations must be conducted out of the public eye.
"Those who march today should be commended for highlighting the issues of tolerance and civil liberties. We hope that all can agree that it is the criminals who commit violent acts of hate who deserve the loudest protest," Attorney General Michael Mukasey said in a written statement.